Get ready to have the best authentic Mexican Guacamole recipe. I was born and raised in the north of Mexico, I love food and I love cooking. My Abuelita Conchis is my inspiration in the kitchen. She was an amazing cook and I just loved to go to her house and get spoiled by a good Mexican meal. Guacamole is a very traditional recipe for Carnes Asadas. Any time there is Mexican barbecue, homemade guacamole is as necessary as the beef to grill.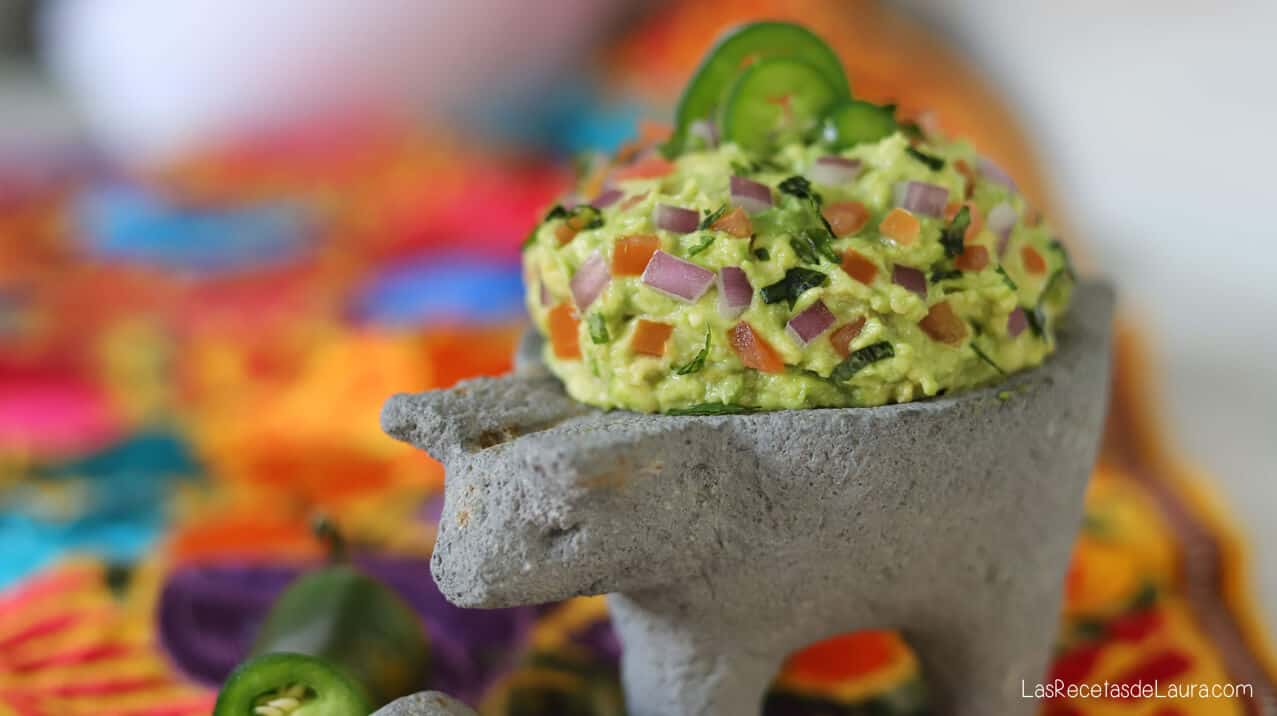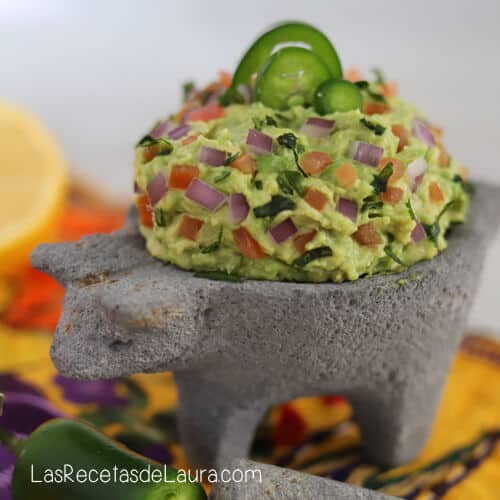 I most recognize that I have been eating more guacamole as an appetizer here living in the US. Guacamole in Mexico is really more used as a companion for carnes asadas to put on tacos to eat as an appetizer while the carne asada is getting ready. Avocado is much more affordable in Mexico so big plates or guacamole are made to share on the table next to Charro beans, tortilla chips (known as totopos), and good salsa.
How to make Guacamole can differ from one family to other in Mexico or even can be a little different depending on the region you live in. I am going to share you my favorite guacamole recipe as I learned to make it since a child and also will give you some secrets from keeping it from going brown.
GUACAMOLE INGREDIENTS
The authentic guacamole recipe always has these ingredients, tomato, onion, cilantro, avocado, salt, and jalapeno or serrano. I just want to make clear that authentic guacamole does not have any garlic on it! you will never in your life have guacamole with garlic in Mexico! even lime on guac is not as popular as you might think. This recipe is for about 5 portions of guacamole.
2 Avocados
2 spoons of Cilantro or coriander
1 Chile jalapeño or serrano if you want it to be spicier
1/3 cup of choped Tomato
1/4 cup of choped Onion
1/4 cup of milk
HOW TO MAKE GUACAMOLE
The avocados need to be soft but firm to be in the perfect state to be smashed and have a delicious creamy taste.
Peel the avocado or cut it in half. Get rid of the avocado bone and with a spoon take out the avocado.
Smash the avocado with a fork until it becomes a smooth paste.
Add milk and mix it with the avocado (the mik is the secret to preveent it from going brown)
Chop onion, tomatoes, jalapeno and cilantro in small pieces and add some salt to taste.
Mix all with the avocado.
GUACAMOLE WITH LIME OR LEMON
Some people love to add lemon to guac. The truth is that the original guacamole does not go with lemon. I personally prefer it to preserve the smooth sweet taste of the avocado instead of adding a sour flavor but that is personal. If you prefer you can add about 1 spoon of lemon juice to the avocado when you are smashing it.
HOW TO PREVENT GUACAMOLE FROM GOING BROWN
There are several Mexican traditions to keep the guacamole fresh and green for longer. My trick to prevent the avocado from going brown is to add a zip of milk to the avocado when smashing it. The mil fat and enzymes prevent the avocado from going brown. Other people like to leave the avocado bone in the guacamole as it is said that it also prevents the avocado from going brown. If you use the mil and you store the guacamole for one night you probably will see the next day a little water on top of the guacamole and a thin brown layer of guac. Just get rid of the brown layer and is good to go. If all the guacamole has turned brown it is bad and time to throw it away.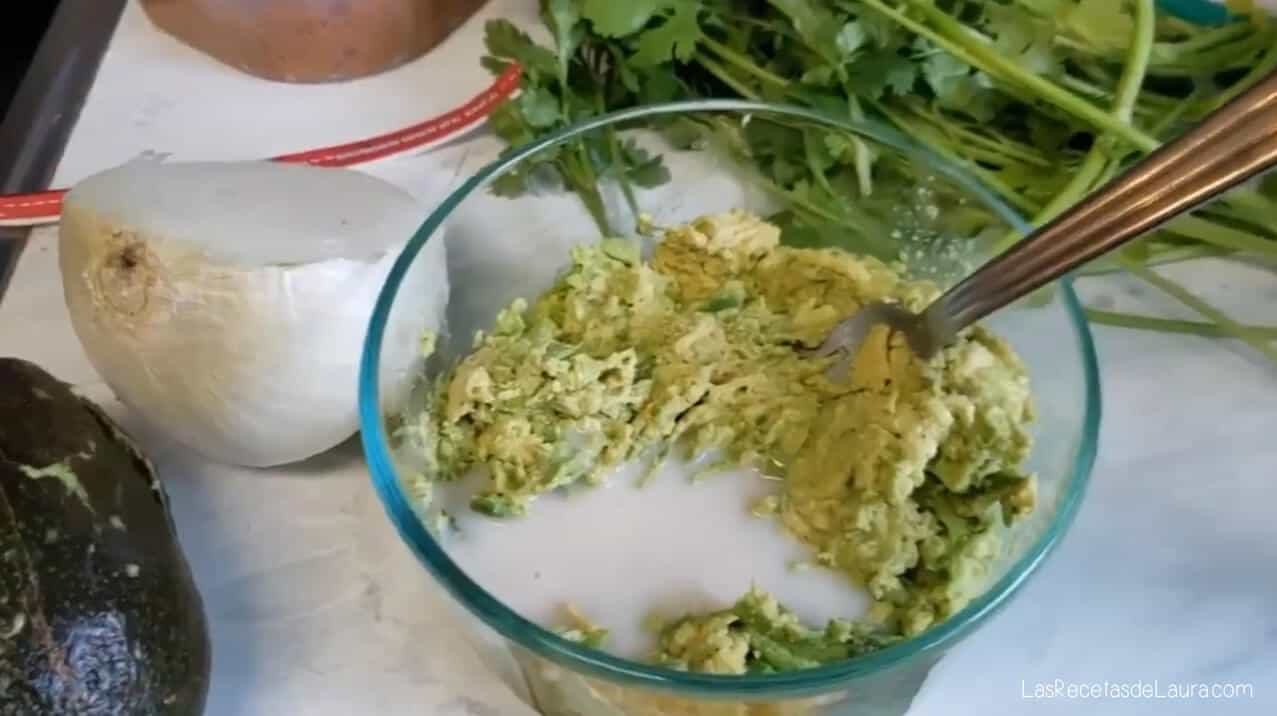 HOW LONG GUACAMOLE LAST
Home-made guacamole won't last with a good flavor longer than two days. If you are planning on making guacamole days in advance is not a good idea. What you can do to save some time is this. Chop all the vegetables and store them each of one apart and a few hours before your event just smash the avocado and put the guacamole together. If you store each ingredient apart they will take longer to spoil and will stay fresh longer.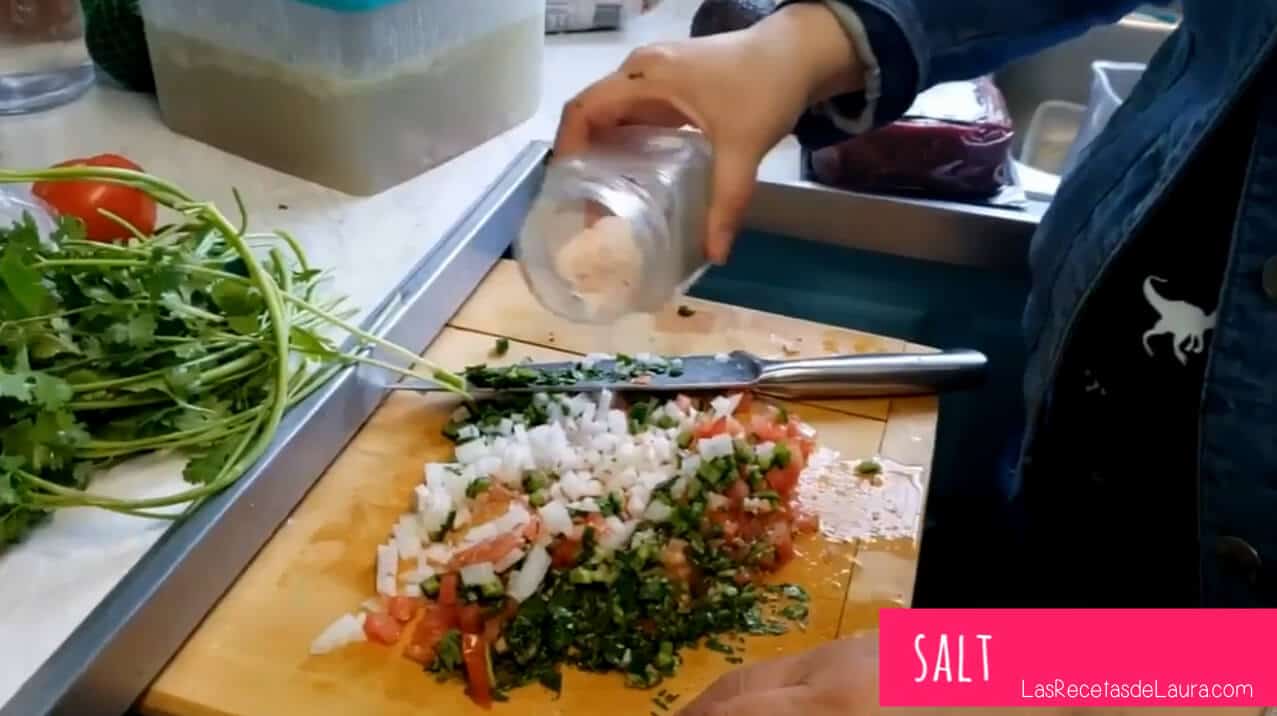 HOW TO STORE GUACAMOLE
Keep guacamole in a clean container with the lea on. I have not proofed of it but some people like to store the guacamole with avocado bones. They say it helps to keep it fresh and prevent the avocado from going brown. Make sure it is in the fried. Guacamole spoils very soon. It might look good for some 3 days but the flavor changes every hour. I will not eat guacamole that is more than 2 days old.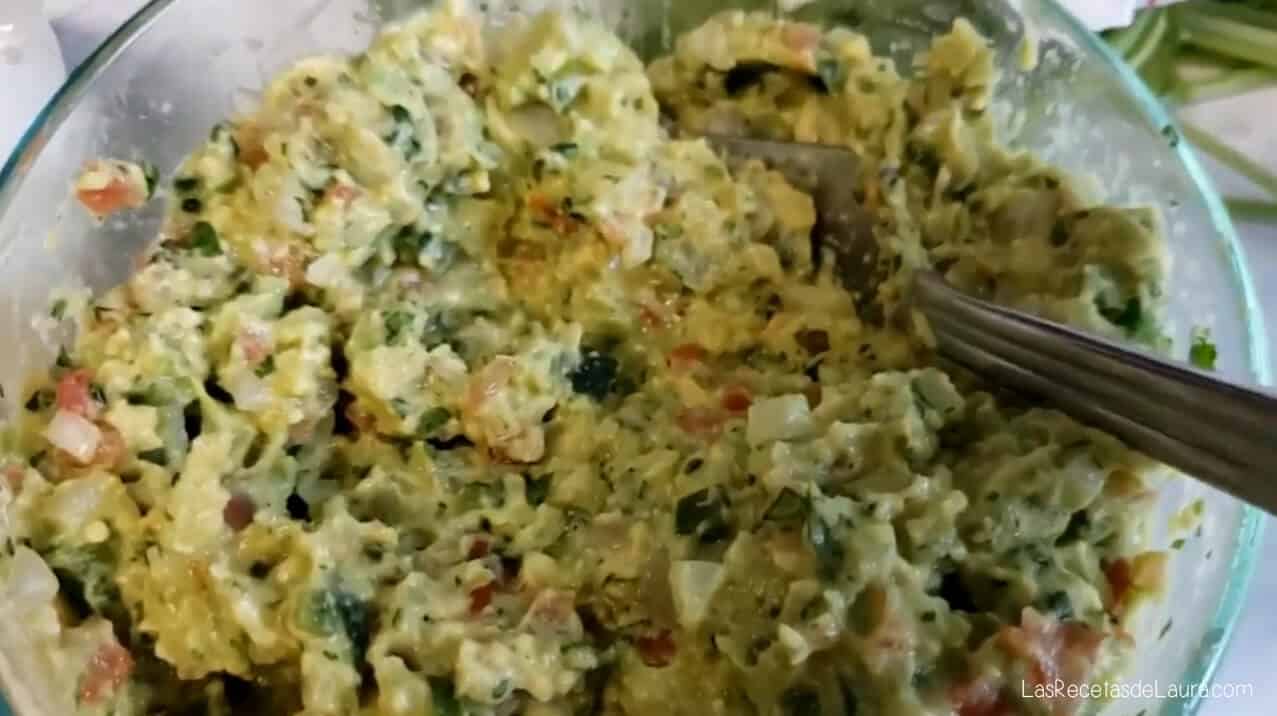 HOW TO EAT GUACAMOLE
Here are some ideas of how you can eat guacamole
Make some vegan guacamole tacos warming up some tortillas and putting guac in the middle.
Eat guac with tortilla chips using it as a dip
Spread guacamole on a tostada and put some Mexican cream and cheese on top
Have Guac as a side dish to eat with chicken or fish
Use your guacamole as a salad dressing! it is good!
WHAT IS THE BEST BOUGHT GUACAMOLE
The best store-bought guacamole is the one from Good Foods. I was very impressed as the flavor is truly authentic and it does not taste like conservatives.
GUACAMOLE SALSA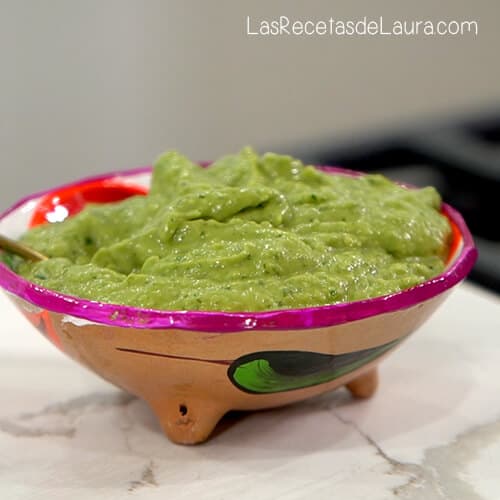 This creamy avocado sauce is one of my favorite Mexcian salsas
This is a kind of guacamole dip or salsa. I love to use it on top of tacos or even as a delicious dressing for my salads! check out this recipe