•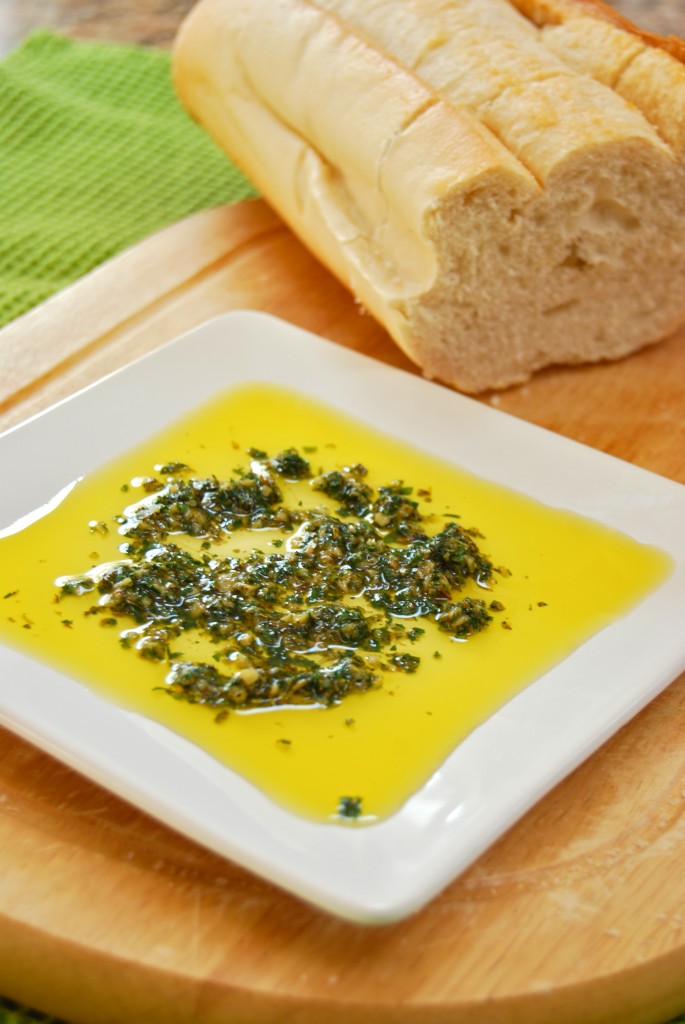 Hope everyone had a great weekend! I was off of work last Friday so I decided to take advantage and make a romantic dinner to be ready when Adam got home from work (it is VERY rare that I have dinner waiting for him)! We had a great pasta dish, which I'll be sharing later this week, and I wanted something extra special on the side.
Adam & I love Carrabba's…our favorite thing is their dipping spices for the bread!! So amazing! This recipe is pretty close to it. I had to sub a few things because basil isn't readily available here except in those little packs that are way expensive, so I subbed with an additional tbsp. of fresh parsley and added just a tad of dried basil. If you do use fresh basil just half the amount of parsley listed below. This was really fabulous and it made for a really elegant pairing with our pasta for a romantic dinner.
I do have to admit our romantic dinner was eaten on TV trays watching DVR'd episodes of CSI…our favorite way to spend an evening! Do you eat on TV trays or at the table, or a combination of both? We mostly eat on trays in front of the TV…we really communicate a lot throughout the day so we don't mind unwinding at dinner in front of the TV for now.
Carrabba's Bread Dipping Spices
Source: www.recipelink.com
Makes 1/4 cup
Ingredients:
2 tbsp. chopped Italian flat leaf parsley
1 tbsp. minced garlic
1 tsp. dried thyme
1 tsp. dried oregano
1/4 tsp. dried basil (or 1 tbsp. fresh-if using fresh reduce parsley to 1 tbsp.)
1/8 tsp. dried rosemary (or 1/2 tsp. fresh)
1 tsp ground black pepper
1/2 tsp. kosher salt
1/8 tsp. ground red pepper (or 1/4 tsp. red pepper flakes)
1/2 tsp. extra virgin olive oil
1/8 tsp. fresh lemon juice
Directions:
Place all ingredients except olive oil & lemon in a blender or food processor and chop until all ingredients are similar in size. Stir in the olive oil & lemon juice.
For Serving:
In a small dish, place 1 1/2 tsp. spice mixture. Pour 3-4 tbsp. extra virgin olive oil over top of the spice mixture. Serve with french bread for dipping.