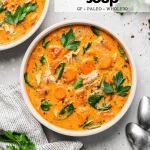 Creamy dairy free chicken vegetable soup is the definition of healthy comfort food. Ready in less than an hour (easy to make!) and full of flavor and good-for-you ingredients. This hearty homemade soup is made with tomatoes, lots of veggies, chicken broth, cashew cream, and fresh herbs and spices. Whole30, gluten free, and Paleo.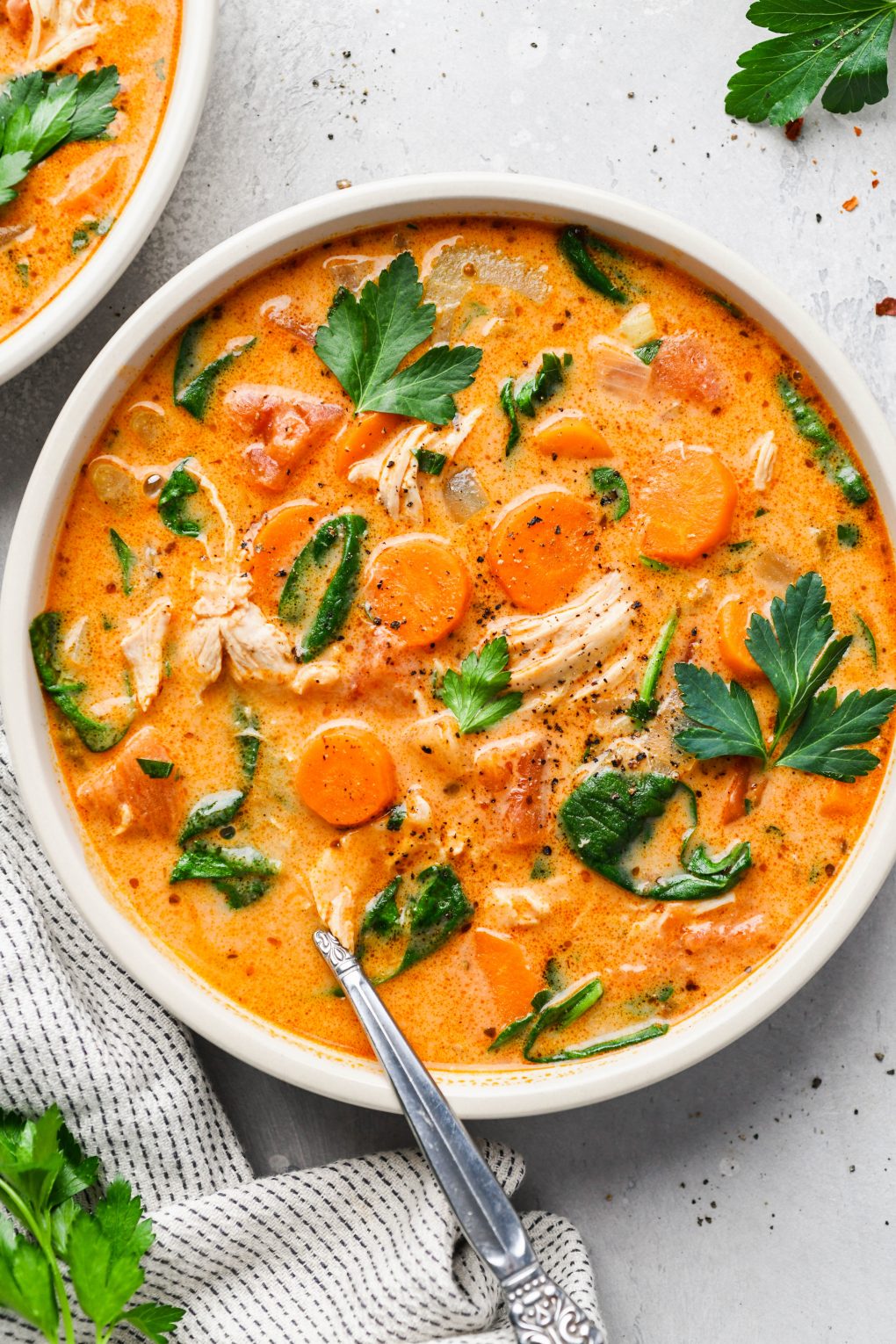 A quick note on this recipe! The original version of this post was published back in 2019. Since then I've re-tested the recipe, and updated the photographs and content. I'm republishing it for you today to enjoy! I hope you continue to make and love this delicious creamy chicken soup. xo
The BEST homemade chicken vegetable soup that ALSO just so happens to be gluten free, dairy free, and paleo!
We're always a fan of a classic chicken and veggie soup, and this creamy (also paleo and Whole30 friendly!) chicken and cauliflower rice soup is another favorite choice. But for this recipe, I decided to keep the some of the flavors from a classic chicken soup and switch up the ingredients just a little bit. Made without noodles, but WITH tons of flavor and veggies.
The classic base of onions, garlic, carrots, and celery are all here, but we've also added in some extra spices, tomatoes, spinach, and fresh herbs for a boost of super yummy flavor + nutrition!
More veggies = more healthy nutrients, right?!
Don't eat meat? I've also included a vegetarian option below if you want to make a vegan / vegetarian version of this recipe!
Why you'll love this creamy dairy free chicken vegetable soup
This rich tomato chicken soup is:
Creamy
Satisfying
Simple to make
Warming
Hearty
Flavorful
Healthy
Dairy free + gluten free!
So tasty!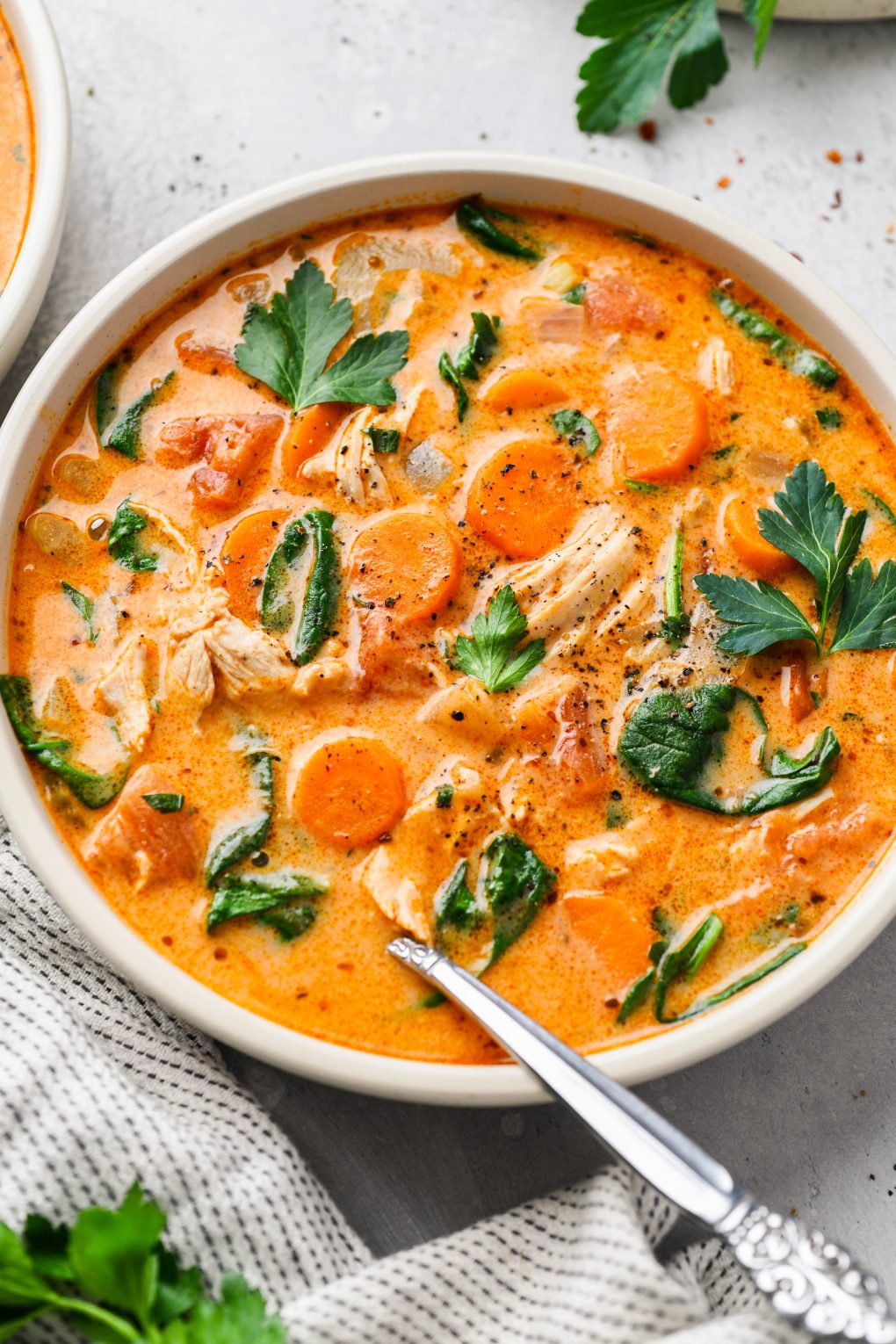 Creamy dairy free chicken vegetable soup ingredients
This creamy dairy free chicken and vegetable soup recipe is made with simple ingredients that are combined to make the most delicious homemade soup. It can be made with or without chicken broth, and you can even use leftover shredded chicken that you already have on hand!
Chicken broth – Or another type of good tasting broth – vegetable broth, beef broth, or mushroom broth would all be delicious!
Boneless skinless chicken breasts – As written this recipes calls for raw chicken breasts that you simmer with the soup until cooked through, and then shred. But if you already have some leftover shredded chicken that is already cooked you can use that too!
Raw cashews – Raw cashews are used to make the cashew cream for this soup. If you've never tried cooking with cashew cream I highly recommend it! It's my favorite dairy free alternative for soups, sauces, and gravies. If you have a cashew allergy you can substitute another full fat non dairy milk or creamer in its place.
Olive oil – Olive oil is my first choice for this recipe, but you could easily substitute another fat like avocado oil, coconut oil, or ghee.
A mix of healthy vegetables – Onion, garlic, celery, carrots, diced tomatoes, and baby spinach are the vegetables we'll use to make this chicken and veggie soup.
Herbs and spices – A mix of poultry seasoning, oregano, and fresh parsley are the seasoning that brings this chicken soup to life!
Salt + pepper – Some salt is added during the cooking process, but I leave most of the seasoning up to when finishing the soup. The salt content in boxed broth can vary SO much, how much salt you need to add will depend largely on how salty your broth was when you started.
Can you make this creamy dairy free soup vegetarian?
Absolutely. To make this homemade soup vegetarian use a vegetable broth in place of chicken broth, and either leave out the chicken or add a can of chickpeas or another type of bean!
How to make this paleo soup
This easy creamy dairy free chicken soup is made in a few simple steps.
Here's the step-by-step:
Start by soaking the cashews for the cashew cream. In a small heat proof bowl cover raw cashews with just boiled water and set aside to soak .
In a large soup pot heat olive oil over medium heat and add onions, carrots, celery, garlic, and salt. Sauté veggies until soft and starting to caramelize. Next comes the tomato paste and spices. Continue to cook until tomato paste has darkened slightly. This step deepens the flavor of the tomato paste and spices.
Add broth, diced tomatoes, and chicken breasts and bring back to a simmer! If using already cooked leftover shredded chicken, don't add it until the next step.
When chicken is cooked, carefully remove from the soup to a cutting board. Shred using two forks or cut into bite sized pieces and return it to the soup.
Prepare the cashew cream and it to the soup along with parsley. Bring back to a simmer and cook for a few more minutes minutes – to bring the flavors together and thicken the soup slightly.
Turn off the heat. Add a few big handfuls of baby spinach and stir until wilted. Season to taste with salt and pepper.
Serve and enjoy!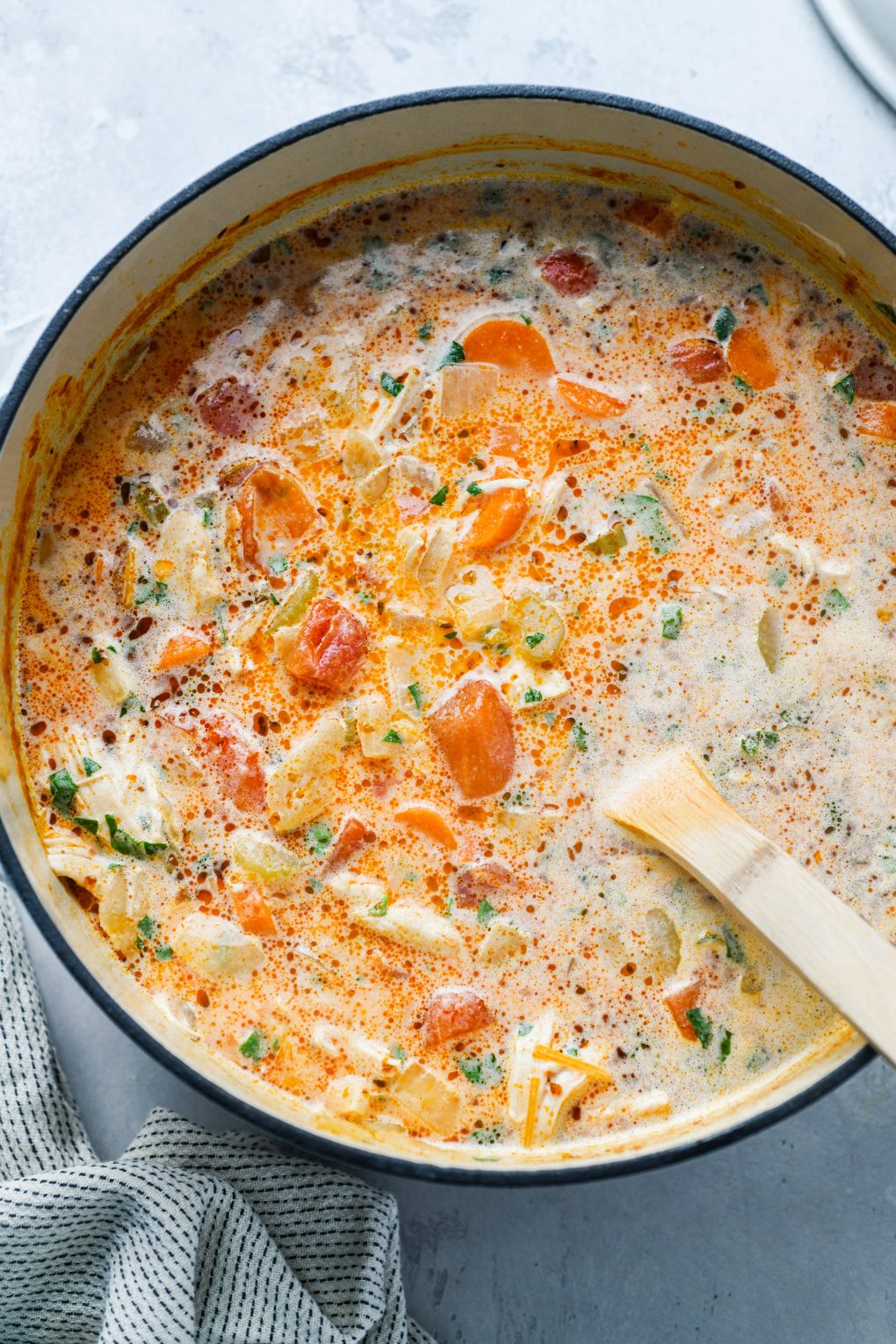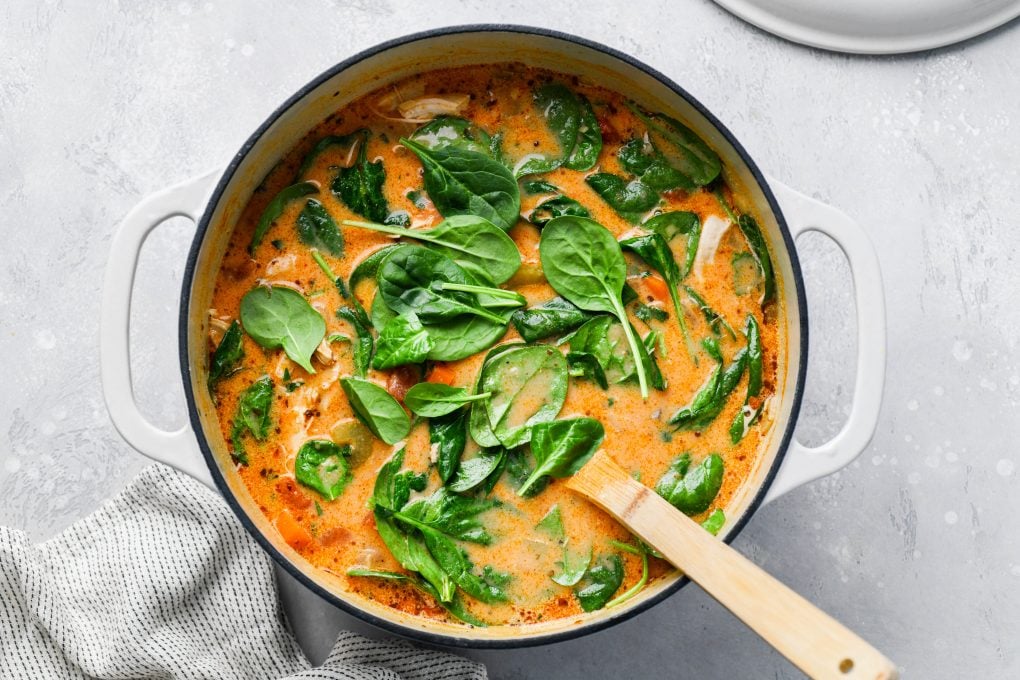 What does this creamy dairy free chicken and vegetable soup taste like?
This chicken and veggie soup has all the flavors of a classic creamy chicken soup with the addition of a creamy tomato rich broth. It is savory, hearty, and so so flavorful.
A delicious dairy free take on a classic creamy chicken soup recipe!
Is this creamy chicken and vegetable soup healthy?
100% YES.
Unlike traditional "creamy" soups, this soup is completely dairy free. It's made without cream, milk, or cheese, and instead relies on cashew cream to make the base of the soup creamy. If you have a nut allergy, look for a full fat non dairy milk or creamer and substitute the cashew cream with about 1 1/2 cups worth.
This homemade soup is also packed with nutrient rich vegetables, protein, and healthy fats!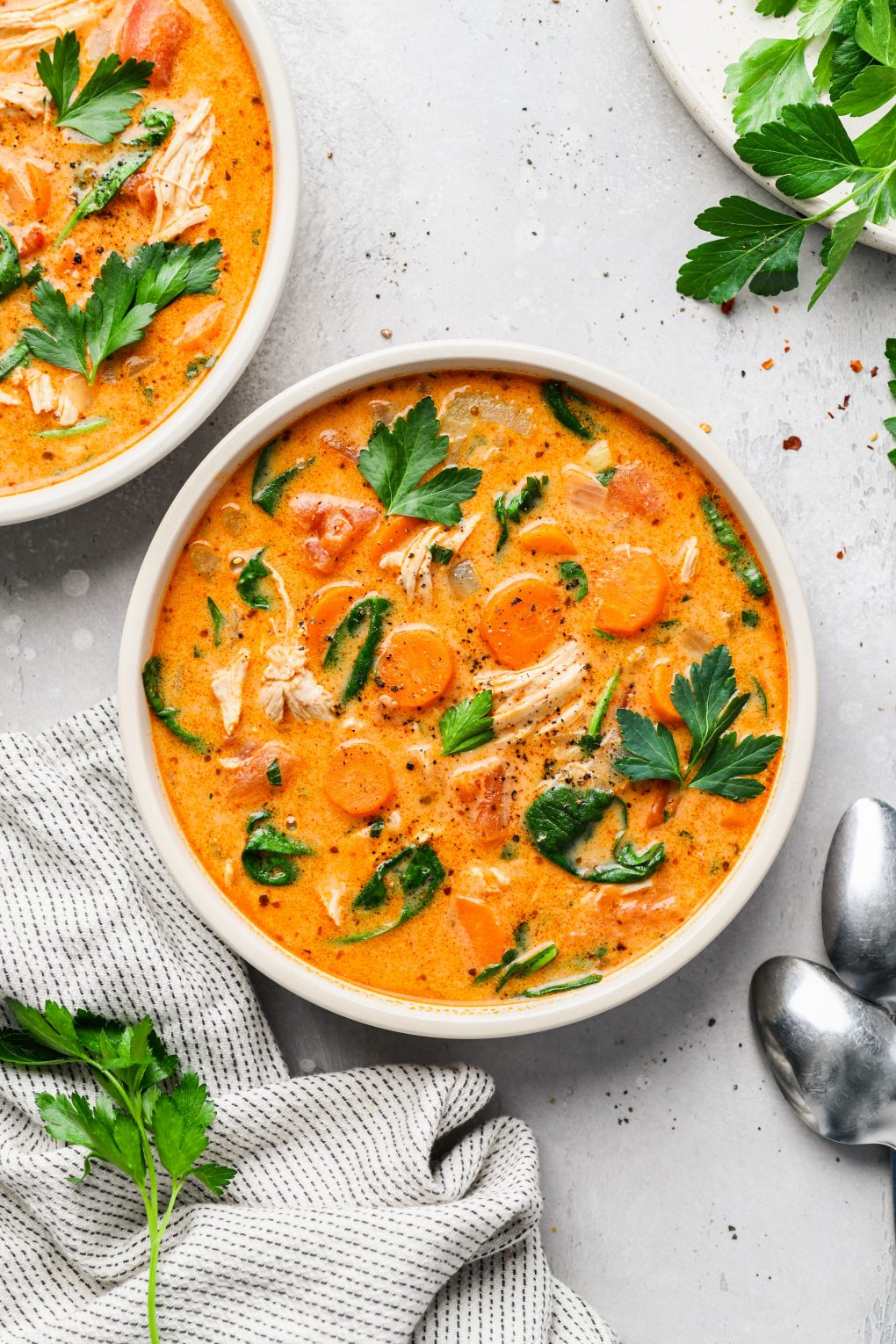 A few notes on the recipe
This soup isn't too spicy, but if you're sensitive to spicy foods leave out the chili flakes and check your all purpose seasoning for chili flakes or cayenne before you start cooking.
If you're allergic to cashews and can't use cashew cream consider substituting it with a healthy pour of unsweetened full fat non-dairy creamer. You could also substitute the cashew cream with coconut milk, but expect a more coconut-y flavor with this swap.
For quick and easy prep start soaking the raw cashews the night before.
For the CREAMIEST cashew cream start with raw cashews and use a high speed blender like a vitamix.
This soup is good for up to a week in the refrigerator.
This chicken soup freezes well! To thaw, transfer to the refrigerator overnight, and warm gently on the stove before serving. This recipe would be an excellent way to get a bit ahead on some meal prep for nights when you don't have time to cook!
Other gluten free dairy free soups to try
If you loved this soup, here's some other paleo friendly gluten free dairy free soups to try!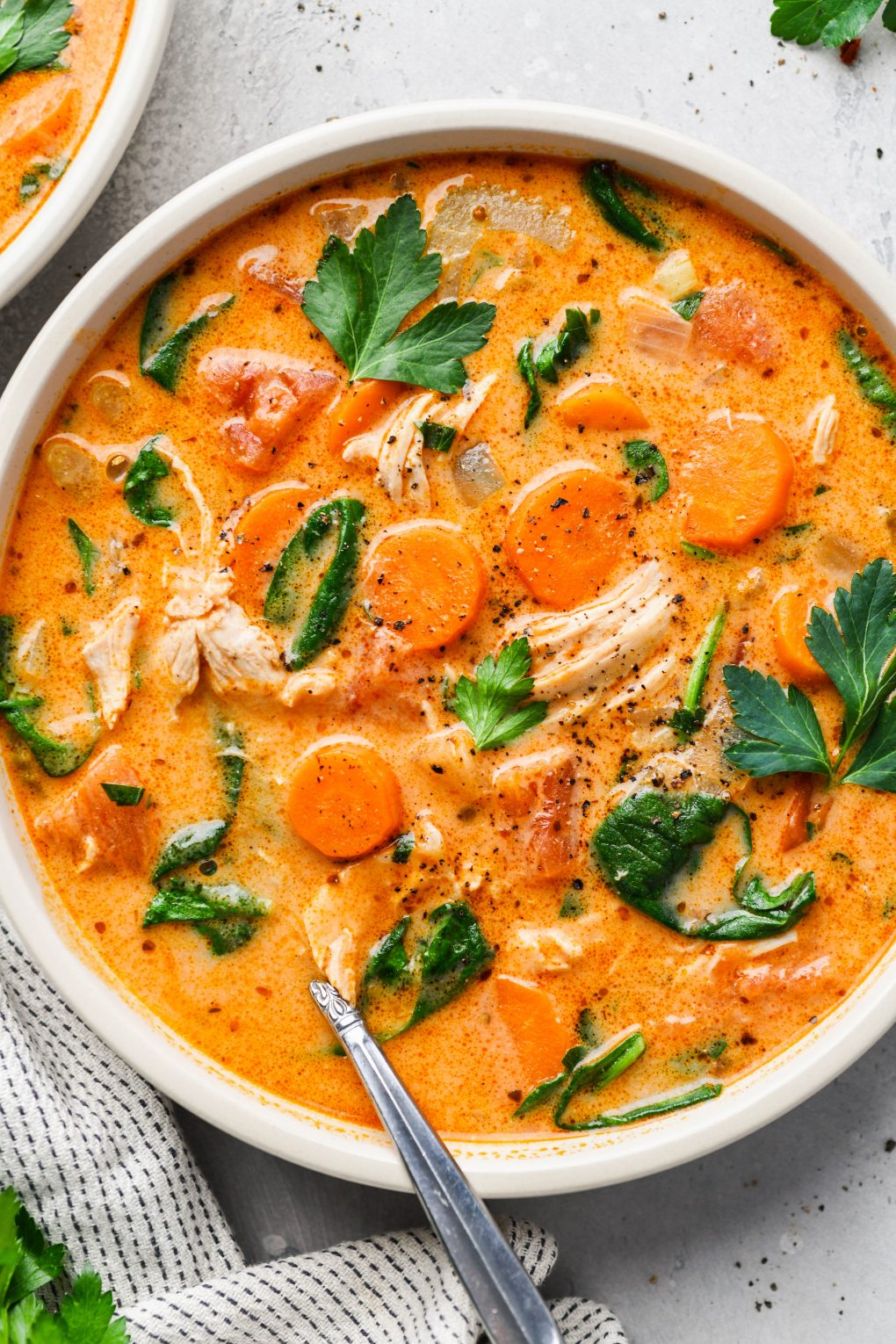 If you love this creamy soup recipe please take 5 seconds to rate the recipe below – we really appreciate it! 🙏🏼
For more NK recipes sign up for our newsletter and follow along on Instagram, Pinterest, and Facebook!
Print