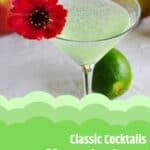 The Appletini is a modern classic cocktail! We walk you through, step-by-step, the making of this Easy Appletini Cocktail Recipe.
I like cocktails and I can't help it. Well, I can help it. Otherwise, some might suggest I have a problem. But really, I like cocktails and we are going to take a small break from the apple pie portion of our apple pie series and focus on a cocktail, the Appletini.
In our last post, we made a homemade sweet and sour mix specifically for our Appletini. Today, we are going to connect the dots and help you make the best Appletini that you can.
I'm a Dude. Why Should I Make an Appletini?
If you like sour apple drinks, you should at least give this one a try. In years past, I have heard all sorts of nonsense about specific drinks not being 'manly' enough or whatever. As if any drink isn't manly or not manly, right? It is a drink.
Sure, this drink is on the sweet side. If we, however, are to measure a manly drink by the strength of it's liquor, the Appletini surely would fit into the category of manly compared to many.
Let's look at a Whiskey Coke. This is manly enough right? Well, a normal Whiskey Coke is going to have about 2 ounces of whiskey and about 10 ounces of Coke. An Appletini is going to have 3 ounces of booze and a ½ ounce of sweet and sour mix. It is mostly booze. The whiskey coke isn't. So, that notion is a bunch of hogwash.
Perhaps it is because of the Apple flavor or the sweetness? Are we going to argue that apples and/or candy is bad? Malarkey, I tell you! Here is the truth. If you like it, drink it.
I enjoyed making and drinking this cocktail. Sure, my preference is for a whiskey with a splash of water, but that is personal preference and sometimes I want something different.
Drink what you like.
The History of the Appletini
Many times, cocktail history is obscured in myth and marketing, but the Appletini history seems to have a pretty straightforward and easy origin story. The story goes that it was a drink originally named Adam's Apple Martini that was invented by a guy who, shockingly, is named Adam.
He was a bartender at Lola's in West Hollywood and the year was 1996. It must have been a hit and the name transformed along the way to Appletini. Now, there may be others that lay claim to this origin story, but this was the only one I found.
Do I Need To Make Homemade Sweet and Sour
No, you don't. You can pick up a bottle of premixed sweet and sour. I do, however, recommend giving my recipe a whirl. It really is so easy to make and it is twenty times better than store-bought sweet and sour mix.
Did You Make This Appletini Recipe?
So, that is our Appletini! Back to the regularly scheduled program of Apple Pie insanity! If you enjoy what we are doing here, please subscribe to get updates by email and make sure to follow me on Instagram.
Products I Used In this Recipe
Print
clock clock iconcutlery cutlery iconflag flag iconfolder folder iconinstagram instagram iconpinterest pinterest iconfacebook facebook iconprint print iconsquares squares iconheart heart iconheart solid heart solid icon
Easy Appletini Cocktail Recipe
5
from
4
reviews
Author:

Ben Myhre

Prep Time:

2 minutes

Cook Time:

3 minutes

Total Time:

5 Minutes

Yield:

1

Cocktail

1

x

Category:

Cocktails

Method:

Shake

Cuisine:

American
Save Recipe
Recipe Saved
Print Recipe
Description
The classic Appletini cocktail! Yes, it is a new classic, but certainly is a memorable one that has quickly joined the ranks of the tastiest cocktails there are. Pucker up and drink an Appletini!
Ingredients
Scale
1 ½ Ounce

Vodka

1 ½ Ounce

Apple Pucker

½ Ounce

Sweet and Sour Mix
Instructions
Fill Shaker with Ice
Add all ingredients to shaker
Vigorously shake for 15-30 seconds
Strain into frozen martini glass
DRINK!
Keywords: appletini