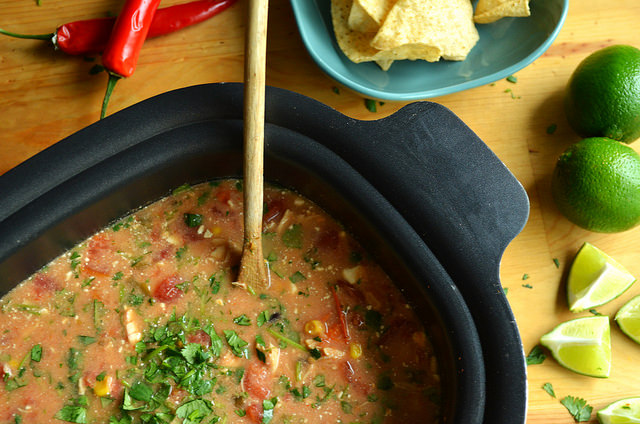 So…I had a problem when I was photographing this Chicken Tortilla Soup.
No it was not the tortilla chips (although thanks for the vote of confidence).
This. Soup. Is. So. Good.
It's like…"put-it-in-the-crockpot-and-go-back-every-five-minutes-to-test-and-see-if-it's-still-good" good. It's…"take a small slurp between every shot you take of the recipe" good.
It's "this-soup-may-never-make-it-to-the-dinner-table" good!
Thankfully, this is a big batch recipe, so that didn't happen.
So let me set the scene for you here about what we want to do with this soup. Because I have all sorts of recipes here on Bariatric Foodie. Some are itty-bitty recipes. And some, like this one, yield a LOT. I realize not everyone has a bigger household. So I'm going to give you a few scenarios.
You have a bigger household and you want something easy, comforting and yummy for dinner that doesn't require a gamillion steps or hours of prep.
You have a smaller household and you want the same, but you also maybe want some lunch leftovers.
You live alone and you want #2.
OR you live alone and you want to impress the pants off of a small group of friends.
If you see your life in any of those? This. Is. Your. Soup!
Now there's nothing new about Chicken Tortilla Soup. It's been around a while. I'm actually not sure why I've never made it into a recipe post before. But what can I say? 2016 is the year I am righting many wrongs in the universe, so let's add this one to the list!
So let's talk shortcuts. I took several.
Firstly, I used chicken breast tenderloins instead of full sized chicken breasts. They cook more quickly and they aren't such a bear to shred (in my humble opinion). So I salted and peppered those and made them nice and comfy in the bottom of my  Ninja Kitchen crockpot. From there, I took a page from one of my favorite recipes, Pam's Southwest Chicken, and dumped a jar of black bean salsa right on top. BAM! There's your tomatoes, beans, onions and green chiles (although I added more beans, tomatoes, and chiles because I really, really, really like them). I let that go on super-low for about four hours. Oh yes, I also threw some queso blanco in there too. It breaks up nicely in the broth when I do that.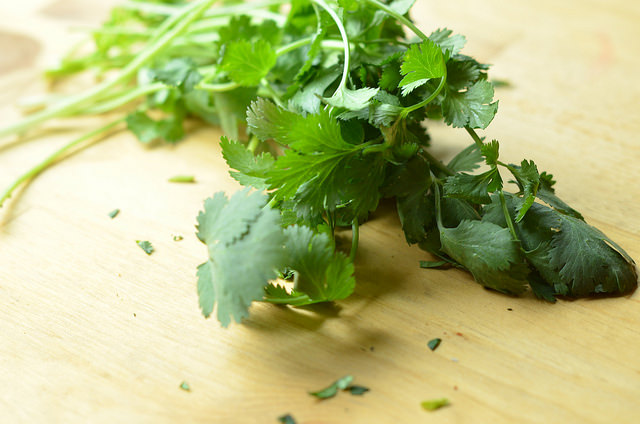 Once I shredded all that chicken, I returned it to the pot and added water (the chicken itself made a broth but it needed more liquid!). With that I also added some McCormick Mexican Spice, cumin, ground chipotle pepper, more black beans, some corn (yes, corn…pick your jaw up off the floor…I eat corn…leave it out if you don't want it!), more green chiles and a TON of cilantro. Then…I walked away for another two hours.
When I returned, beautiful magic had happened in my crockpot. Ohhhhh mercy!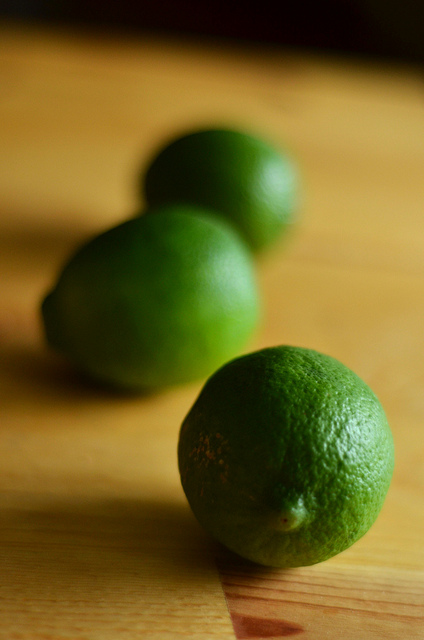 Now those of you who follow Bariatric Foodie on social media (or are on my email list) know that as of the writing of this post I am recovering from a bilateral mastectomy. I tell you that to say that this recipe COULD NOT be labor-intensive. I'm so serious. More than 10 minutes of doing anything just wipes me out. But this recipe was so easy and I felt a great sense of accomplishment because…I cooked it. For my family. Two weeks post-op. BAM! (Btw, I don't advocate folks recovering from surgery push themselves to do that…I felt up to it and it felt good to do it, but please use your own discretion!)
S'anyway…from there you have a few choices to make on how to deal with this soup. I don't rule your pouches, Foodies. I served tortilla chips with my soup because my kids like them. I took approximately three and broke them up over the top. I cannot tell a lie! But you have a choice. If tortilla chips are a trigger…don't buy them! This soup stands up well all by itself.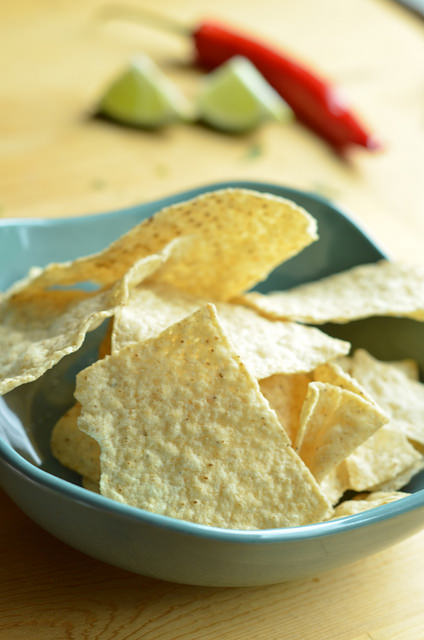 I also did a bit of lime and some avocado. A bit more cilantro over the top because they give you way too much of it in a bundle because I like pretty food and a little cojita on top.  And that, my friends, is how I do chicken tortilla soup.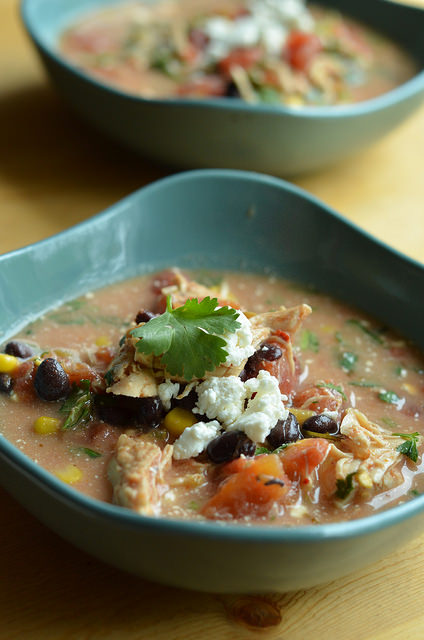 Honestly this whole thing required about 15-ish minutes of work for so much more reward. I think I need to let my crockpot do the cooking more often.