Who could say no to a lovely, creamy bowl of gluten free cream of chicken soup? Well, sadly me and Mark usually have to say no to 99% of soups unless they're dairy free and low FODMAP too!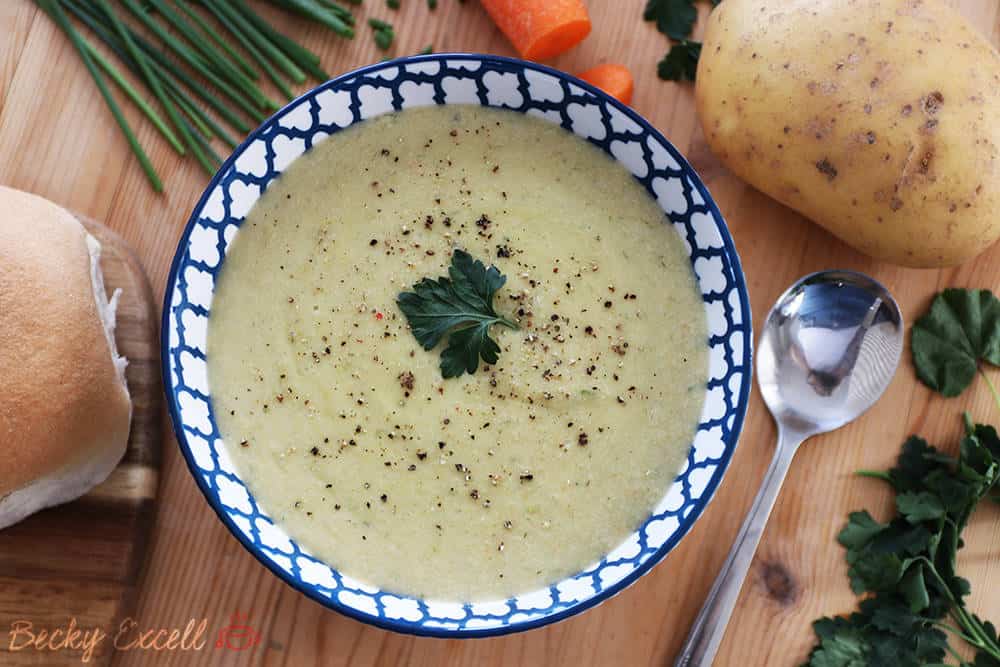 But being the determined folk we are, we tried a billion gluten free cream of chicken soup recipes and took our favourite parts from each of them to create our ultimate gluten free, dairy free and low FODMAP recipe. Cream of chicken soup is Mark's favourite soup, yet before we came up with this recipe, he hadn't eaten it in 7 years… 7 years! That's a long time to go without something you used to love and we couldn't have that now, could we?
In case you're wondering, me and Mark both can't tolerate onion or garlic because they're both high FODMAP foods. There's certainly nothing wrong with eating them if you can tolerate them (lucky you!) but for me and Mark with IBS, it's a one way ticket to lying horizontal on the sofa with a hot water bottle until further notice. Sadly, that means for us that, if say we did find a gluten free cream of chicken soup that somehow miraculously happened to be dairy free too (I'd probably sooner win the lottery), we still wouldn't be able to eat it because of onions and garlic. So instead of just complaining and screaming into the sky "why me?!!!!!!" as the camera dramatically zooms out, we decided to just make our own. Much less dramatic, right?
Allergen friendly food has taken a massive leap in the last five years, but our 'no onion, no garlic' request still hasn't progressed much in the world. The only pre-prepared food we can buy are things that are 'accidentally low FODMAP' (in the sense that they don't contain garlic or onion etc. by chance) and it's extremely lucky to find something that falls under that category to start with. But for anyone wondering if removing garlic and onion from every meal means that you're left with flavourless, tasteless food… hell no! Instead of using regular flavourless oil, we use garlic-infused olive oil and if a recipe calls for onion, we use chives.
It has a lovely, creamy, thick texture and the taste is unrivaled by any gluten free cream of chicken soup recipes I've ever tried. The use of salt and pepper (salt especially) is integral to the overall flavour so make sure you add to suit your taste. I'd recommend trying it once it's all blended before adding your seasoning a little at a time until you're happy. A little pink Himalayan salt in moderation can really bring out the amazing chicken flavour even more, so that's my top tip for this recipe 🙂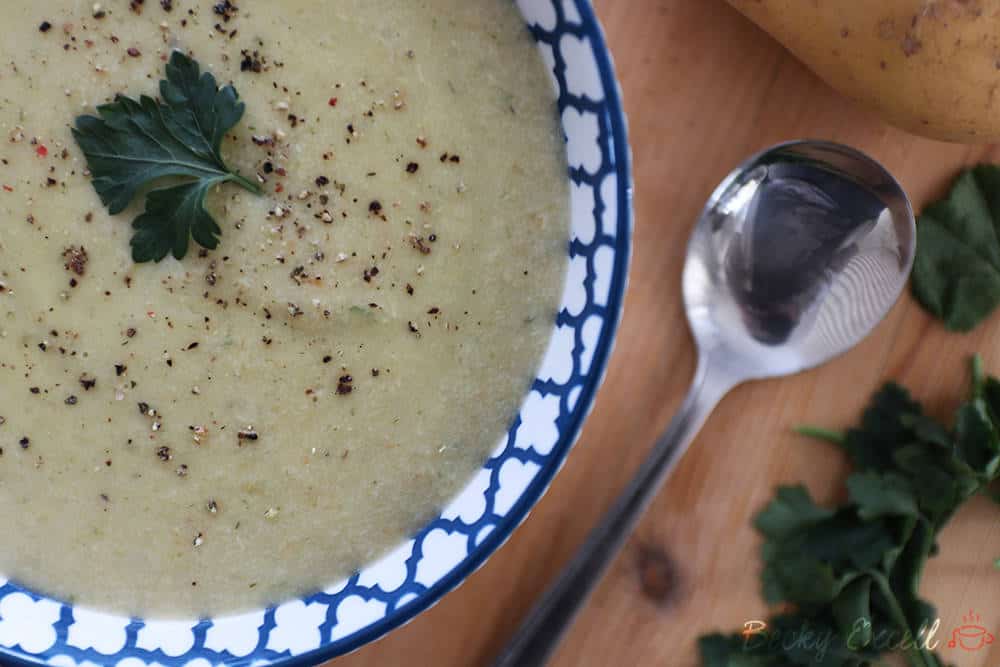 But whilst making your own gluten free cream of chicken soup from scratch can seem like a bit of a mission, once you've got everything prepared and chopped, is it just literally a matter of adding the ingredients one after another to a saucepan before blending it all up at the end. It's hardly what I'd call elaborate or tricky! Plus, it's so worth making this in large batches if your saucepan is big enough and freezing it for another week's dinner. Our freezer is literally full of gluten free cream of chicken soup at any given time of the week! Here's our recipe, we hope you really enjoy making it and eating it!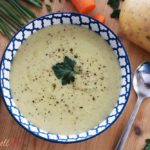 Gluten Free Cream of Chicken Soup (Dairy free, low FODMAP)
SERVINGS:
2
PRINT RECIPE
Ingredients  
3 large chicken thighs

or 4 regular sized chicken thighs

1 carrot

1 potato

800ml chicken stock

200ml dairy free milk

50g dairy free margarine

2 tbsp gluten free flour

handful of fresh parsley

chopped

handful of fresh chives

chopped
Instructions
Prepare your vegetables, herbs and chicken thighs (Peel and chop!).

In a large saucepan, gently melt your dairy free margarine and fry your chopped potato and carrot for a couple of minutes.

Add 2 tbsp of gluten free flour, coat your vegetables and keep on a low/medium heat for a further minute – keep moving the veg around in the pan.

Add your chicken stock and milk, stir.

Next add your chopped chicken thighs as well as the parsley and chives.

Bring to boil and then turn down to simmer for 20 minutes – the chicken will be cooked and the vegetable nice and soft.

Remove from the heat and blend using a hand blender. It should be smooth and relatively thick.

Season with salt and pepper to taste.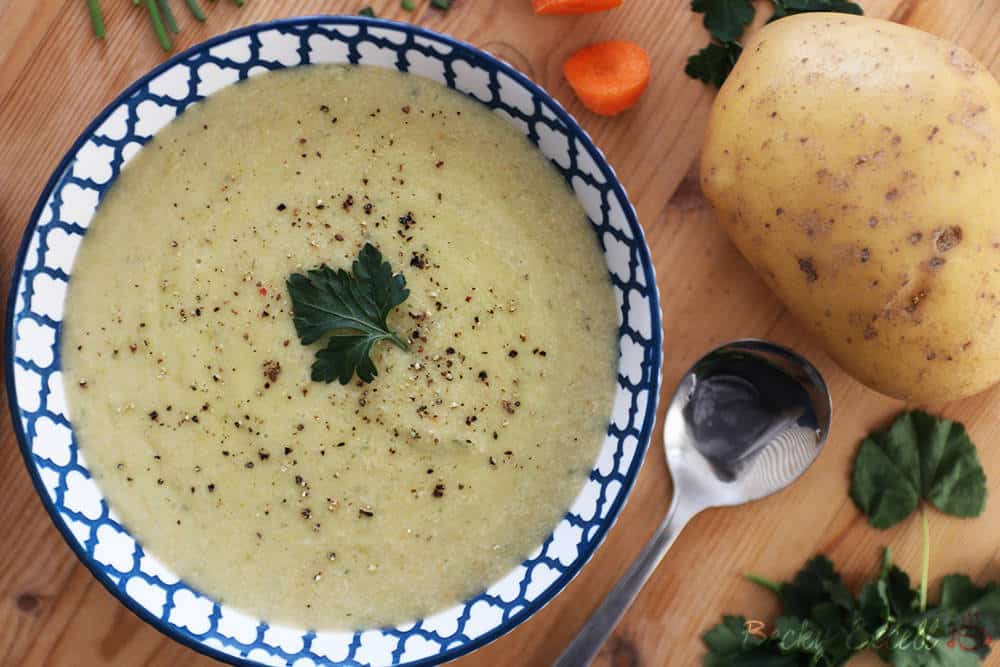 So, thanks for visiting the home of my gluten free cream of chicken soup recipe! If you've tried it, please let me know how you got on by leaving me a Facebook comment below or on Facebook/Twitter and I'll try my best to answer any questions you may have too 🙂
Thanks for reading,
Becky xxx
Oh and don't forget to pin this before you leave!