Delicious Iced Coffee with instant coffee is made in microwave and without an espresso machine or cold brew. Forget high end coffee shops and make this drink easily at home in a fraction of the price and under 2 minutes. Must try recipe for summer!
If you enjoy coffee flavored drinks or desserts, then try our Mocha Latte, Tiramisu Tres Leches Cake or even this Microwave Chai Cake.
As an Amazon Associate and member of other affiliate programs we earn a small commission from qualifying purchases through our affiliate link. For more information read our Non-Disclosure Agreement.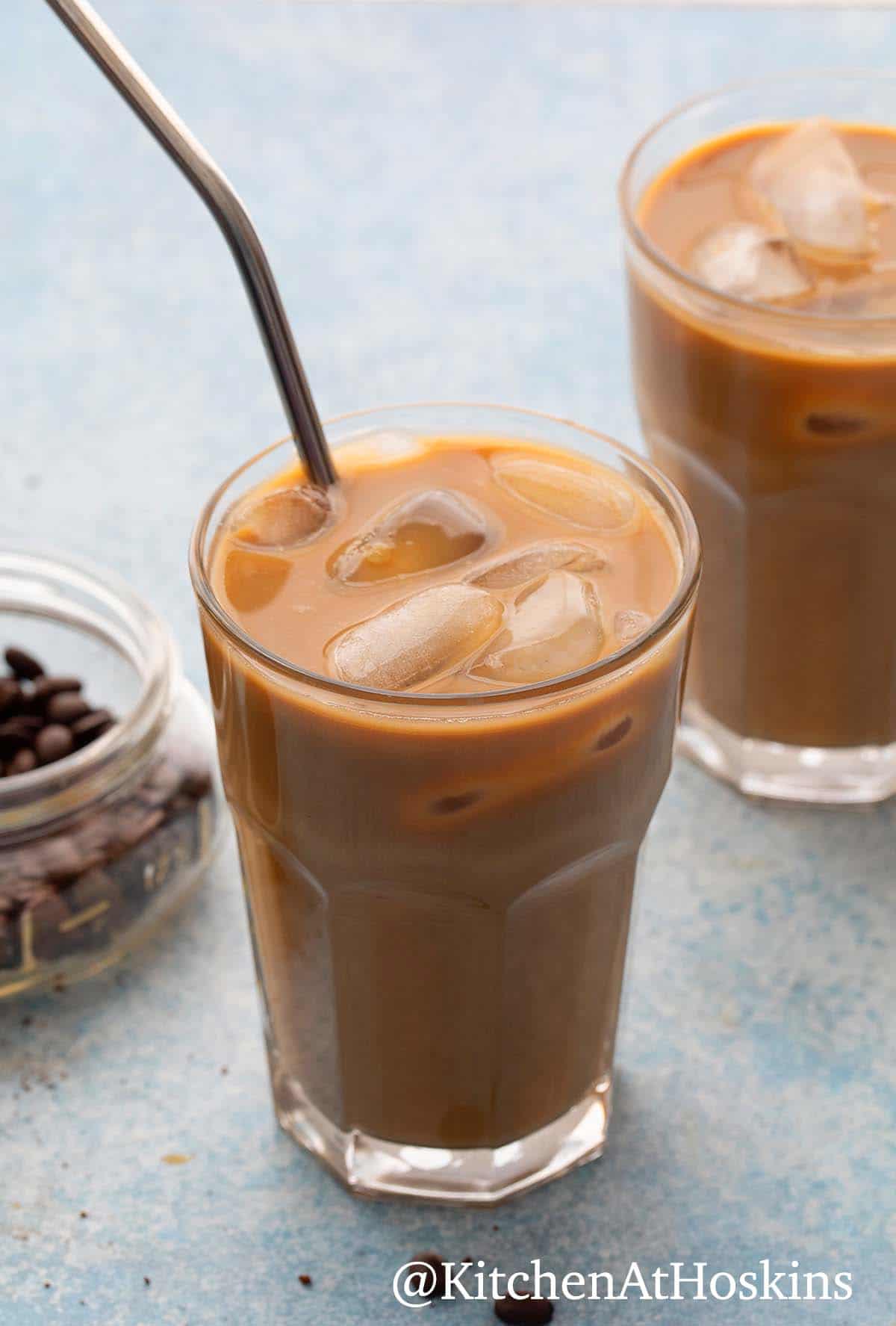 Iced Coffee with Instant Coffee
An easy DIY microwave recipe made with only 3 ingredients, no espresso machine, with instant coffee and without creamer. It's the perfect drink to beat the summer heat and is ready in under 2 minutes.
Who doesn't love Coffee? A cold coffee is a great way to quench your thirst and still get that caffeine kick. We enjoy drinks from Starbucks every weekend, but not a big fan of the hefty price for something that can be easily made at home.
Why this recipe works?
Instant – No waiting several hours for a cold brew or wait for hot espresso to cool down. Instant granules is dissolved in lukewarm water and mixed with chilled milk and ice for a budget friendly beverage. A great drink to make in the morning without any prep ahead since there is no need to make a syrup.
It does not taste weak – Regular brewed drinks tend to get watered down with the addition of ice. This quick and easy version helps us to control the strength. So, add more coffee if you'd like your beverage stronger. It is smooth and delicious.
Budget friendly – It is almost pennies for a drink at home when compared to several dollars at a high end shop.
Customizable – Feel free to add your favorite spices, extracts, booze or flavored syrups to make it just the way you like.
What is iced coffee?
It is exactly what it sounds like: a coffee drink served cold. It can be made with regular brewed coffee and served with cold milk and ice or making it with cold brew.
Believed to have originated in Algeria in the 18th century, it was originally made by mixing coffee syrup with cold water. Iced version began to appear on menus by the 19th century and then later gained popularity with big Cafe chains like Starbucks, Dunkin Donuts and Burger King featuring in their menus.
Technically a cold brew is perfect for making a cold drink, however many cafe chains simply use hot brewed coffee for convenience. Starbucks specifically uses the double-strength method in which the java is brewed hot with twice the amount of grounds making it very strong and is perfect when mixed with ice.
How is Iced Coffee made?
It is usually made with cold brew, but sometimes regular hot brewed is cooled down with ice. Ice cold milk and a sweetener of choice (most likely bottled syrups in coffee shops) is then added to make this tasty drink.
Best Instant Coffee to Use?
We love this article by purewow on the best brands available. Some of the leading brands that are full bodied medium roast are:
Cafe Altura instant organic
Starbucks VIA instant veranda blend
Nescafe Taster's choice house blend
Mount hagen organic fair trade
Jacob's kronung
Maxwell house original blend
What kind of milk to use?
We used regular whole in this recipe due to the richness without making it heavy. However any type of dairy like skim, fat free, oat milk, almond, half and half or sweetened condensed are all great options.
What kind of ice is best?
Choosing the right ice is key! Since crushed ice will water down very quickly, we recommend medium or large sized cubes. Large ones are better if you have them around since they melt very slowly yet keep your drink cold. Although medium ice cubes are the most commonly found ice in a home freezer.
Iced Coffee or Ice Coffee?
"Iced" means cubes of ice is added to a drink whereas "ice" means frozen or blended with ice like ice cream, slushy or granita.
Iced Coffee vs Cold Brew
Cold brew is coarse ground java steeped in cold water for at least twelve hours. The longer it sits, stronger is the flavor. The grounds are then filtered out, resulting in a concentrate that is less acidic and bitter than hot brewing. This method uses time instead of heat to extract the oils, sugars and caffeine. Whereas cold joe is cold or hot brew mixed with sweeteners and dairy.
Ingredients
Instant Coffee – We found that a good dark roast instant granules works best. We used Nescafe Classico Dark Roast instant.
Sugar – Sometimes homemade iced coffee tastes bad since it is not sweetened enough. We use regular white sugar in this recipe unlike sugar syrups used in coffee shops, making it a healthier option.
Milk – Use whole, skim, almond, oat milk or sweetened condensed for a Vietnamese twist.
Pro Tips for Success
Don't reduce sugar – Sugar makes this taste delicious just like you would get at Starbucks. Reducing it might make it healthier but might also not be as tasty.
Milk – Use your favorite variety.
Don't heat until hot – This not only affects the taste but also takes longer to cool down. Heat just until lukewarm to dissolve the sugar.
Variations
Iced latte – Top with frothed milk instead.
Caramel – Stir in 1 to 2 tablespoons caramel sauce, top with whipped cream if desired —> Just like Starbucks.
Alcoholic – Try adding some whiskey, rum, brandy or Baileys.
Spices – Stir in ground cinnamon, ginger or freshly grated nutmeg.
Flavorings – Vanilla, almond or coconut extracts can be stirred in.
Vietnamese – Mix in sweetened condensed milk and reduce/avoid sugar.
Flavored syrups – Skip sugar and add flavored syrups like vanilla, caramel, mocha, hazelnut or chocolate syrups.
Whipped Cream – Top with whipped cream.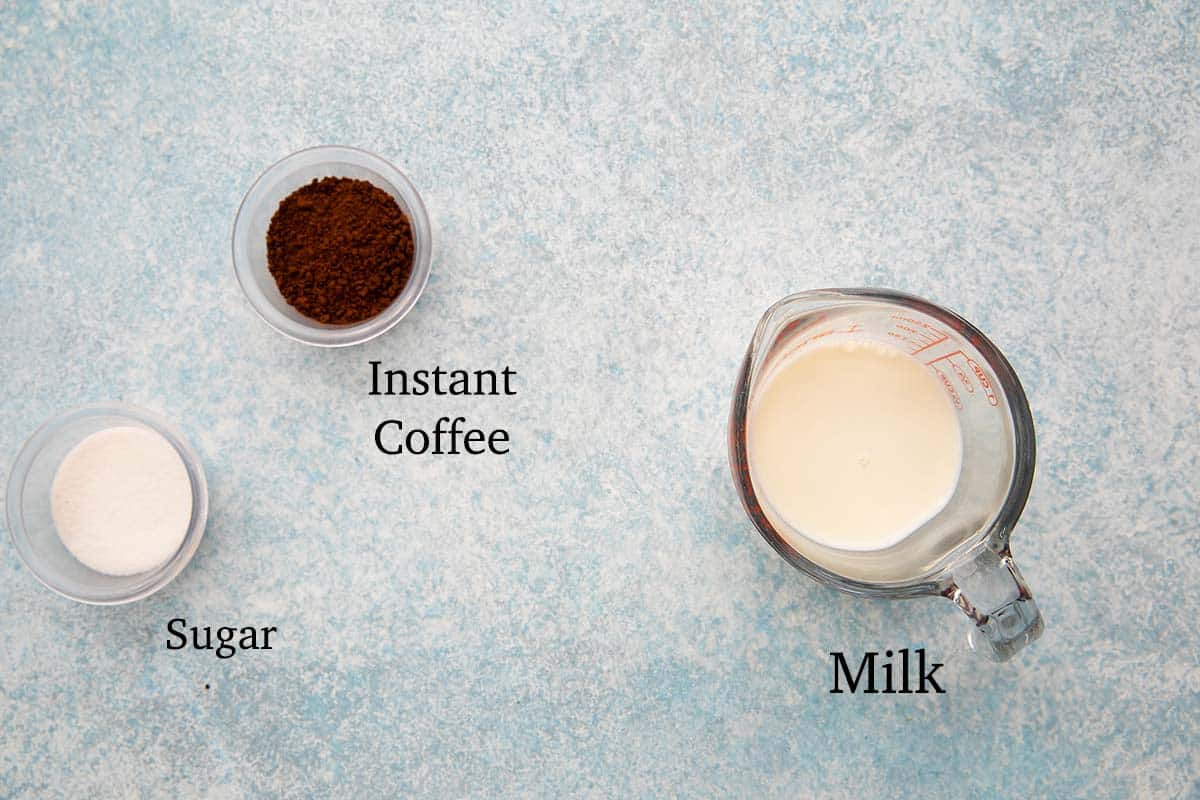 How to make?
This recipe is very easily made in your microwave or stove top. Warm water, instant joe granules and sugar in microwave or on very low heat on the stove top. Don't make it hot! Just until lukewarm to dissolve the sugar. Cool for couple of minutes and then mix with chilled dairy and ice cubes.
Can you make ahead?
Sure can! Make the drink as instructed but without adding any ice. Store in a sealed mason jar or any air tight container and refrigerate for up to 2 days. Serve over ice.
It is a great way to cool down during hot summer months, especially when you can do so when sipping on a delicious, homemade caffeine drink.
Perfect pairings
A good beverage is better when enjoyed with a slice of eggless carrot cake, banana cake, almond flour cake or carrot walnut cake.
If you are enjoying this in the morning, then try it with muffins like these Air fryer banana muffins, almond flour carrot muffins, mini banana muffins or oatmeal mug cake.
FREQUENTLY ASKED QUESTIONS
What kind of coffee do you use for iced coffee?
Choose a medium or dark roast! It will give a rich flavor and be easy on the palate.
Can you turn hot coffee into iced coffee?
Sure can! Simply cool down a hot brewed, until room temperature and then refrigerate until cold. The only down side is that this step requires planning in advance.
What does Starbucks use?
They either use Terraza Blend or Starbucks Kenya. Both are medium roast and has a well balanced acidic flavors.
How to store leftovers?
Sure can! Simply store prepared joe (with no ice) in the fridge for up to 2 days.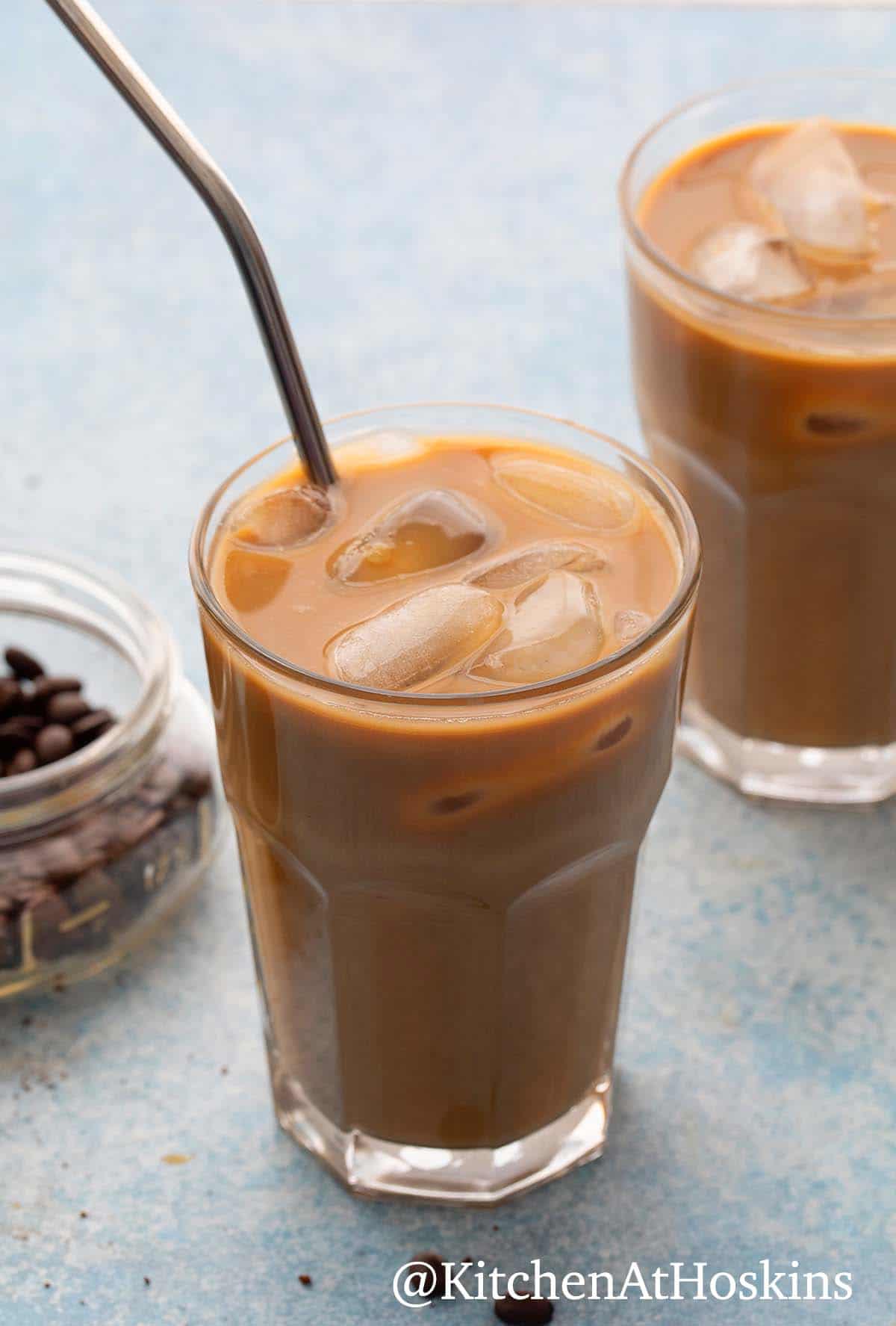 More drinks to try:
Follow me on INSTAGRAM, TIK TOK, FACEBOOK or PINTEREST for more delicious recipes.
Continue to Content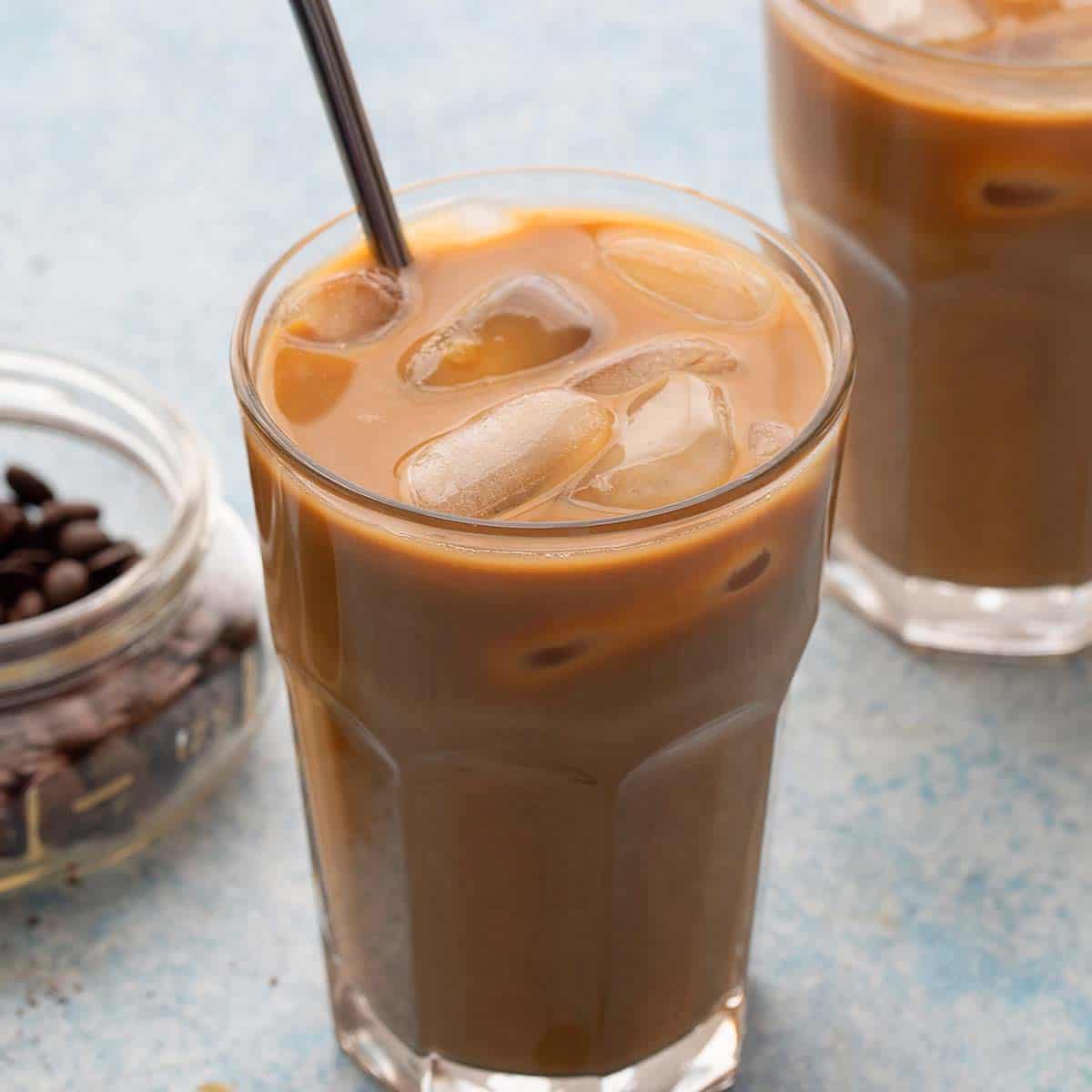 Iced Coffee with Instant Coffee
Yield:
1 Serving
Prep Time:
1 minute
Total Time:
1 minute
Delicious Iced Coffee is made in microwave with instant coffee and without an espresso machine. Forget high end coffee shops and make this drink easily at home in a fraction of the price and under 2 minutes. Must try recipe for summer!
Ingredients
1/2 cup water
1 tablespoon instant coffee granules
1 tablespoon sugar
1/4 cup + 2 tablespoons milk, preferably whole milk
Ice to serve
Instructions
1. Add water, instant coffee and sugar into a microwave safe cup, microwave until lukewarm (10 to 15 seconds). Remove from microwave and stir until coffee and sugar is dissolved.
2. Let cool for about 2 minutes and then stir in milk. Pour into a glass filled with ice, enjoy!
Notes
Coffee – We used Nescafe Classico Dark Roast instant coffee
Don't reduce sugar – Sugar makes this taste delicious just like you would get at Starbucks. Reducing it might make it healthier but might also not be as tasty.
Milk – Use your favorite variety.
Don't heat until hot – This not only affects the taste but also takes longer to cool down. Heat just until lukewarm to dissolve the sugar.
Nutrition Information:
Yield:
1
Serving Size:
1

Amount Per Serving:
Calories:
231
Total Fat:
9g
Saturated Fat:
5g
Trans Fat:
0g
Unsaturated Fat:
3g
Cholesterol:
28mg
Sodium:
132mg
Carbohydrates:
29g
Fiber:
0g
Sugar:
27g
Protein:
10g
I am not a certified dietician or nutritionist. You are ultimately responsible for all decisions pertaining to your health. This information is provided as a courtesy and should not be construed as a guarantee. This information is a product of online calculator such as Nutrifox.com.. Although Kitchen at Hoskins attempts to provide accurate nutritional information, these figures should be considered estimates. Varying factors such as product types or brands purchased, natural fluctuations in fresh produce, and the way ingredients are processed change the nutritional information in any given recipe. Furthermore, different online calculators provide different results depending on their fact sources and algorithms. Under no circumstances will Kitchen at Hoskins be responsible for any loss or damage resulting for your reliance on the nutritional information. To obtain the most accurate representation of the nutritional information in a given recipe, you should calculate the nutritional information with the actual ingredients used in your recipe, using your preferred nutrition calculator. You are solely responsible for ensuring that any nutritional information provided is accurate, complete, and useful.
Did you make this recipe?
Did you make this recipe? I'd love your feedback! Please let me know by leaving a comment or review below or snap a photo and share on Instagram.
Some of the links above are affiliate links, which pay me a small commission for my referral at no extra cost to you! I am a participant in the Amazon Services LLC Associates Program, an affiliate advertising program designed to provide a means for us to earn fees by linking to Amazon.com and affiliated sites. Thank you for supporting kitchenathoskins.com
All contents and images are my original work, unless and otherwise mentioned. Please do not use my recipes or images without linking back to www.kitchenathoskins.com. If you wish to republish a recipe, please rewrite in your own words and don't forget to include a link back to the original recipe.