Junnu is a milk pudding or cake known as ginnu in kannada and kharvas in Marathi. It is prepared using the colostrum milk that a cow produces for the first few days after it delivers a calf. This milk is known as junnu paalu in Telugu.It is believed that this milk is full of nutrients and colostrum which builds immunity in humans as well.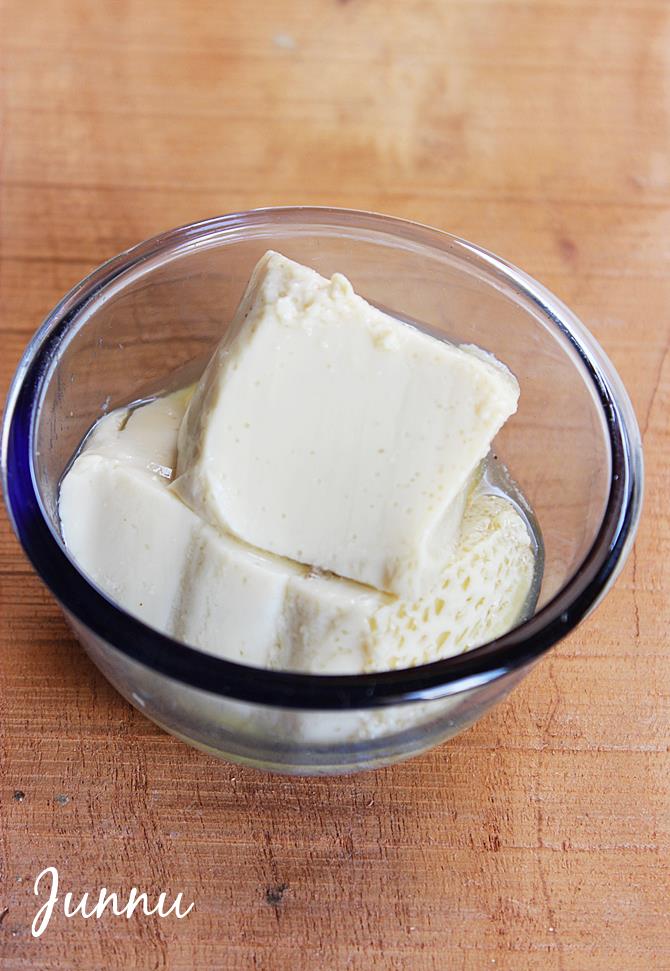 But should not be consumed raw unless it is pasteurized or boiled well. The excess milk after the calf consumes is distributed among friends and relatives to express their joy of the new arrival i.e. the calf.
To make junnu or kharvas, on the first day, this milk is mixed with regular whole milk, jaggery, cardamom powder and pepper. Then it is steam cooked until it firms up and becomes a pudding. On the subsequent days, the milk is used to make junnu as it is without diluting.
Some folks like to have this runny that is of a drinking consistency, but we prepare it to a thicker cake like consistency that can be eaten by a spoon.
The pudding consistency or its texture depends on the ratio of colostrum milk : normal milk. To get a consistency as seen in second photo, we diluted in the ration of 1:6 since it was the first days milk.
If you happen to use the milk from second day on wards, no dilution should be done otherwise the pudding may not set.
This milk stays good frozen for about a month, if refrigerated for about 48 hours. I do not know the safety if used over that period.
Junnu or kharvas was prepared by my mum, during my visit to India last june. She usually stocks up this milk in the freezer whenever it is sent by friends and relatives owning cows in their farms.
I have also heard that colostrum powder is available in India which can be used to make Junnu. Junnu can also be made without using junnu paalu or milk, will share that recipe sometime.
We use a good amount of pepper powder as it is said to cut down the vata dosha that is caused by consuming this milk. It is your choice whether to use pepper or not to.
You can check this link for Sweets recipes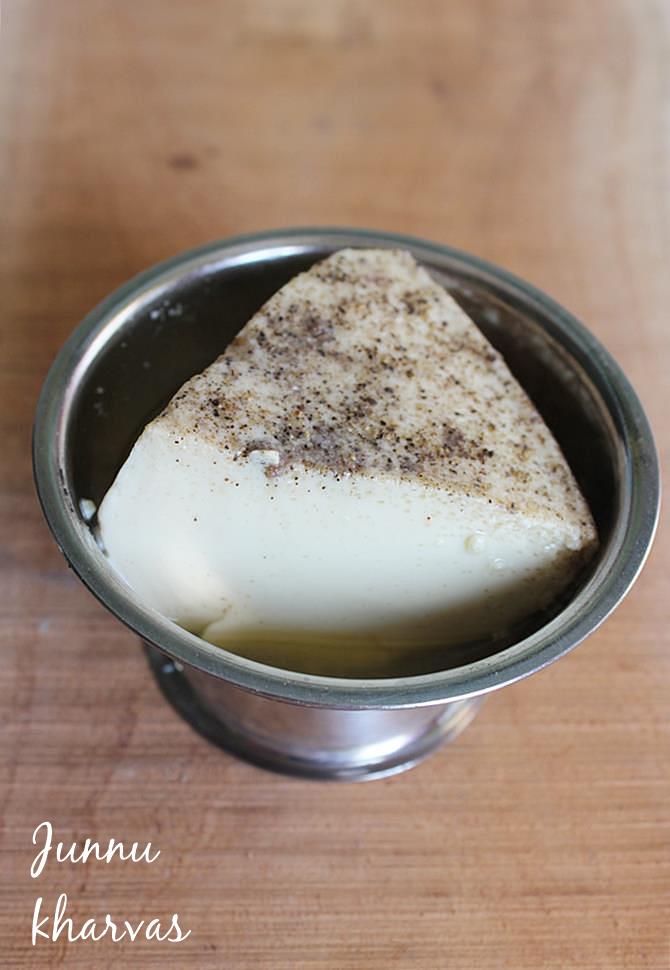 Junnu or kharvas recipe
Advertisement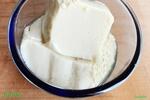 Junnu Or kharvas recipe
Junnu or kharvas is a traditional pudding made with cow's colostrum milk.
Pin Recipe
Print Recipe
Cook Mode
Prevent your screen from going dark
For best results follow the step-by-step photos above the recipe card
Ingredients (US cup = 240ml )
▢

1

cup

cow's colostrum milk

(First day milk)

▢

6

cups

Full fat whole milk

(use only if using first days milk, otherwise replace with colostrum milk)

▢

¼ to ½

tsp

Green cardamom powder

▢

2

pinches

Pepper powder

(optional)

▢

400

grams

Jaggery

powdered or grated
Advertisement
Instructions
How to make junnu or kharvas
▢

Mix jaggery, whole milk and colostrum milk in a large bowl.

▢

Stir well till the jiggery melts off completely.

▢

Filter this to a wide and deep bowl.

▢

Sprinkle pepper powder and cardamom powder.

▢

If you use a bowl that is not deep enough the milk might spill over from the bowl while steaming.

▢

Add water to a steamer or pressure cooker or idli cooker as you would do to steam idlis.

▢

Place a plate that comes with the steamer. When the water begins to bubble, put on the flame to medium.

▢

Steaming the milk on a very high flame will seep the water into the milk bowl and the milk can spill to the steamer. So control the flame well at this stage.

▢

Place the milk bowl in the steamer and steam for about 25 to 40 minutes.

▢

After 25 minutes, you can open the lid of the steamer and check if the pudding is done.

▢

If it is cooked well, you can find some jaggery water over the pudding and the milk all set well.

▢

This is the best indication to know if the pudding is correctly cooked.

▢

If you find no jaggery water over the junnu or kharva, close the lid and steam for some more time also check if more water is needed in your steamer. Repeat checking.

▢

Cool junnu completely or place it in the refrigerator for a while to cool quickly. Cut to desired size pieces.
Advertisement
Alternative quantities provided in the recipe card are for 1x only, original recipe.
For best results follow my detailed step-by-step photo instructions and tips above the recipe card.
NUTRITION INFO (estimation only)
Nutrition Facts
Junnu Or kharvas recipe
Amount Per Serving
Calories 413
Calories from Fat 81
% Daily Value*
Fat 9g
14%
Saturated Fat 5g
31%
Cholesterol 28mg
9%
Sodium 122mg
5%
Potassium 382mg
11%
Carbohydrates 71g
24%
Sugar 71g
79%
Protein 9g
18%
Vitamin A 600IU
12%
Vitamin C 0.2mg
0%
Calcium 341mg
34%
Iron 0.6mg
3%
* Percent Daily Values are based on a 2000 calorie diet.
Tried this recipe?
Mention @SwasthisRecipes or tag #swasthisrecipes
© Swasthi's Recipes
WhatsApp
Pin
Reddit
Email
FOR MORE RECIPES
Please leave this field empty
Enter & Confirm eMail ID for Swasthi's Recipes Newsletter
*