This post may contain affiliate links. Please read our disclosure policy.
Linguine with White Clam Sauce is simple, fresh and delicious!
Linguine with White Clam Sauce is a quintessential Northern Italian dish that is absolutely delicious! Your dinner guests will think that they are eating at a restaurant in Naples or Rome – but it will be our little secret that this classic recipe is super simple to make!
Fresh, flavorful ingredients play a starring role in the finished dish – so if at all possible, you'll want to use fresh littleneck clams in this recipe. Littlenecks are smaller-sized clams, not very expensive, and often readily available at most supermarkets. (*See our note below the recipe if you can't find fresh clams.)
While your linguine cooks – start making your white clam sauce. In about the same time it takes your pasta to cook – this fantastic, flavorful dish will be ready to serve!
You'll sauté fresh chopped garlic and a pinch of dried red pepper flakes in extra virgin olive oil. Next, add a few anchovies and sauté until they disintegrate in the oil. (Please don't leave the anchovies out – they add amazing flavor to this Linguine with White Clam Sauce!)
Next, add some oregano, white wine, and the fresh littleneck clams to the pan, and simmer until the shells start to open.  Here's a very important step: Some of the clam shells will cook and open sooner than others in the pan. Remove the opened clams to a bowl off the heat as they open so they don't overcook and become rubbery.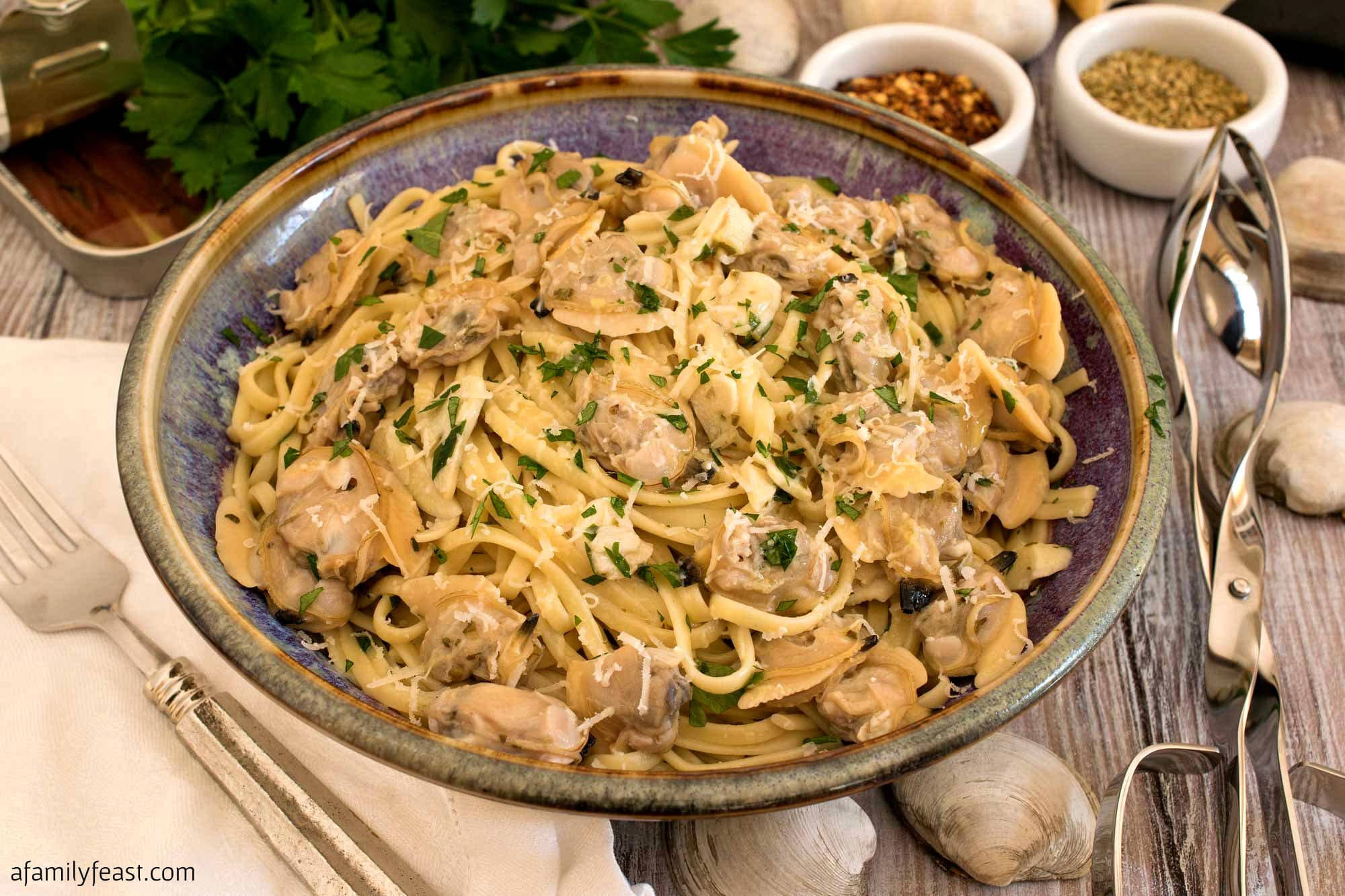 By this point, your linguine should be just shy of the al dente stage – still a little chewy. Use some long tongs (these silicone tipped tongs work great because they grip the pasta) and transfer the linguine directly from the pot to the pan with the white clam sauce to simmer for a few minutes until the pasta finishes cooking. Don't worry about draining and rinsing the pasta – the starch from the cooked pasta helps thicken the white clam sauce as it simmers. (Feel free to add a little more of the pasta water if necessary to create a looser sauce.)
At this point, you have a few choices:
You can add the clams – still in their shell – back to the pan with your Linguine with White Clam Sauce and serve as is, with a little bit of chopped fresh parsley sprinkled over the top. Or – you can do what we do – remove the clams from their shells before adding them back to the sauce. (We just find it much easier to eat if the clams have already been removed before serving.)
Cheese or no cheese? To be authentic – Linguine with White Clam Sauce is not typically served with Parmesan cheese added to this dish.  As mentioned above, the fresh ingredients – and specifically the fresh clams – are the stars of this wonderful meal! At the risk of offending the true traditionalists reading this recipe – we added Parmesan cheese to the cooked sauce, and as an extra sprinkle on top when served – just because we like it.  The choice is yours!
Although my husband Jack has made Linguine with White Clam Sauce for many years in his past food service career, today's recipe was inspired by watching Lidia Bastianich (my husband Jack's all-time favorite television food personality) on television. We're sure her version is much better – and it does not include cheese! 😉
We love seeing what you made! Tag us on Instagram at @afamilyfeast or hashtag #afamilyfeast so we can see your creations!
5
from
5
reviews
Linguine with White Clam Sauce
Yield:
4
–
6
servings
1
x
Prep:
10 minutes
Cook:
15 minutes
Total:
25 minutes
Pin for Later
Rate Recipe
Print
Save
Scale:
Ingredients
1 pound dry linguine pasta
¼ cup extra virgin olive oil
2 large garlic cloves sliced thin
Pinch red pepper flakes
4 anchovy filets
1 teaspoon dry oregano
3 pounds cleaned shell-on littleneck clams (about 2 ½ dozen) *see note below recipe about alternatives to fresh
¾ cup white wine (we used chardonnay)
3 tablespoons fresh Italian flat leaf parsley, chopped fine and divided
4 tablespoons freshly grated Parmesan cheese, divided (Note: Adding Parmesan is not traditional, so feel free to leave it out.)
A little more extra virgin olive oil to drizzle over the finished dish
Instructions
Place a large pot of water on to boil and once boiling, lightly salt with kosher salt. Because salty anchovies are in this dish, try not to over salt the water. Once boiling add the linguine.
While linguine is cooking, in a 12-14 inch skillet, heat the ¼ cup of olive oil over medium high heat and once hot, add the garlic and pepper flakes. Cook for 1-2 minutes or just before the garlic starts to brown.
Add the anchovies and cook one minute. The anchovies will disintegrate into the oil.
Add the oregano and the shell on little neck clams along with the white wine.
Cover and cook over medium to medium high until the shells start to open, about five minutes. Try and control the heat so that the mixture bubbles but not at a full boil.
Have two bowls standing by. Soon as you see one shell open, remove lid, lift it out with tongs and over one bowl, remove clam, again with tongs. Any liquid from the shell goes into this bowl as well. Place shell in second bowl. Repeat as each shell opens. At some point, several will open at once so remove cover and just remove as many as you can handle at once. Discard shells.
Once pasta has reached a point where it is almost done but still a little chewy, using tongs, remove pasta from water and place in the pan that you cooked the clams in.
Add pasta and cook for a few minutes until the pasta is tender and has absorbed a little of the liquid. If you need a little more liquid, add a small amount of pasta water.
As the pasta cooks, add half the chopped parsley and half the cheese. Finally finish by pouring in the bowl with the clams and juice. Give it one last stir and pour everything into a serving bowl.
Drizzle some olive oil over the top and sprinkle with the remaining parsley and cheese.
Last Step! Please leave a review and rating letting us know how you liked this recipe! This helps our business thrive & continue providing free recipes.
Notes
*Note: If fresh littleneck clams are not available in your area, you could use fresh, frozen or canned chopped clams along with bottled clam juice. Look for fresh or frozen clams containers that equal approximately 2 cups of chopped clams and purchase one bottle of clam juice. During Step 4 above (when you are adding the shell-on clams), add the juice and cook uncovered for two minutes along with the wine, garlic, etc. Just prior to adding the cooked linguini into the sauce, add the chopped fresh or frozen clams and cook for one minute. Using chopped clams this way will ensure they don't get tough and rubbery which will happen if you cook them too long so adding just before the pasta will ensure that they stay tender. One last note…Canned chopped clams will most likely be precooked in which case you don't want to cook them further. Just make sure they go into the pan after the cooked pasta.
Disclosure: This post contains affiliate links.
You may also like:
Littlenecks in Fennel Broth